Blog VeXeRe - Kênh du lịch và xe khách Việt Nam
Are you planning to travel to Sapa? What do you think is the most appropriate transport for a perfect trip? Train, bus or motorbike? The great choice for your Sapa trip is Azura Limousine to Sapa. The VIP 9 seats car is known as "ground specialist" with quality and style of best service, which is sure to make visitors happy with their trip!
AZURA SAPA is Established in 2016 and it is a member of Khanh Huy Transfer & Trading Service. JSC is known for its experienced specialists in supplying transportation, travel services to corporate and individual customers in Vietnam and abroad.
Their vision is to be the leading provider in luxury car and limousine service to approach actively to any customer needs to arrive to the beautiful Sapa town!
Their mission is to provide passengers with the best transportation solutions for corporate and individual consumers through high quality service with safety and comfort.
Designed from a large car into a more compact car, the alternation to a wider seat is equivalent to the business class seats of airlines.
Azura Sapa Limousine, a kind of Limousine Vcar, has a design of 9 high-class seats from the usual 16 seats to create spacious space, large chairs. Car seats are available with a seat, which can be adjusted from 10 to 45 degrees depending on demand. On a Wifi-equipped car, the USB charging port is located near the seats, a large 21-inch LED screen and a cold towel, free mineral water.
The seats are slid down with adjustable buttons, passengers can choose the most suitable and comfortable posture easily, quickly.
Service staffs are always enthusiastic to support customers in all situations, drivers are carefully selected, always put the safety and comfort of passengers to the top.
QUALITY STANDARDS OF "AZURA SAPA LIMOUSINE" VEHICLES:
Safety is our number one priority in all activities
Meet standards of land Transport of FTO ( Federation of Tour Operators)
Sufficient insurances.
Valid travel transport service license
3- point seat – belts for all seats
Safety and comfort equipment are in good condition: tires: brake system; light system; reflectors; horn; air conditioners…
Emergency procedure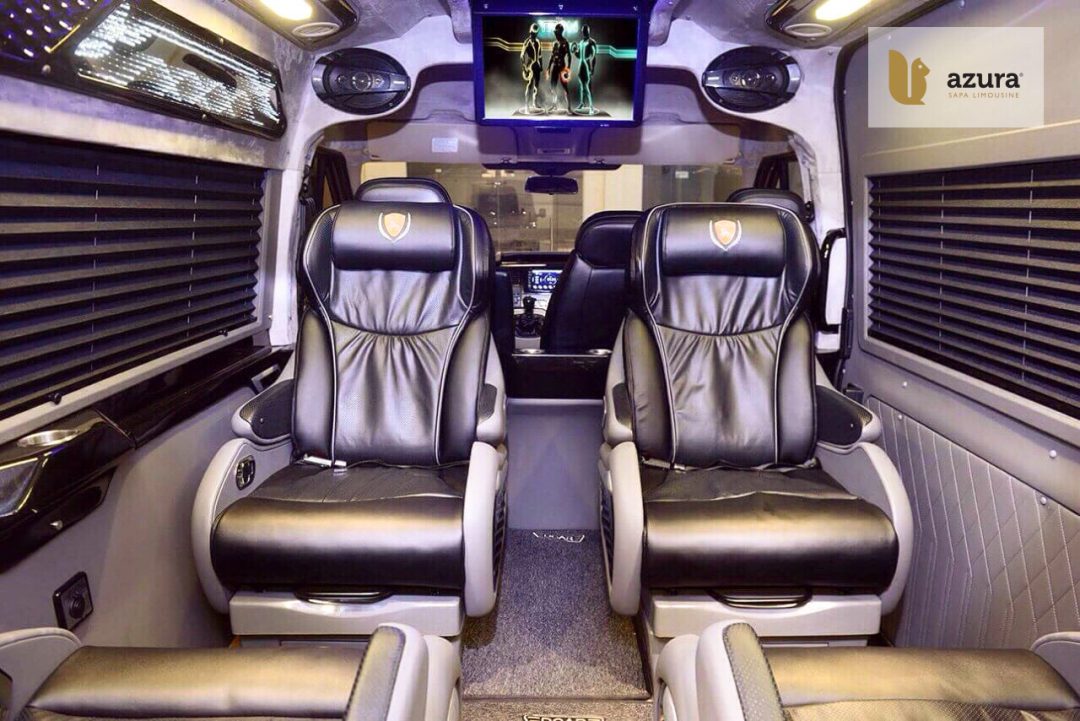 Detailed information of Azura Sapa Limousine Bus to Sapa
Price:
320,000 VND ~ 13.7 USD/person/way based on your type of seat.
This limousine offers two types of seats! Normal seats are the 2 seats near driver and 3 seats in the back. VIP seats are the 4 middle seats which have better view and are more comfortable than the normal seats.
The fee Included in the Limousine Service:
Hotel Pickup
Water and wet tissues
Experienced and professional mountain drivers
7 comfortable and spacious seats
Elegant decoration
Rechargeable USB ports
Surround sound system and TV LED 19"
Private reading lights
Free Wi-Fi available
Contact information:
Headquarter: 31/75 Hong Ha, Hoan Kiem, TP. Ha Noi
Departure time and location:
In Hanoi, Azura Sapa Limousine departs from 31/75 Hong Ha, Hanoi. Transit assistance is available in the Old Quarter and at Noi Bai International Airport. The car will pick up and drop off at Noi Bai airport for an airport transfer fee of 20,000 VND / ticket.
Azura Sapa Limousine has support to transfer hotels, motels in SaPa town or customers can take the car directly at the office No. 1 Hoang Lien.
Duration:
4 to 5 hours depending on your destination. However, the time may be different from the schedule due to traffic condition.
Passengers can contact directly or dial 1900 7070 for further information and support. In addition, you can book tickets online and easily select your seat at VeXeRe.com for the cheapest price.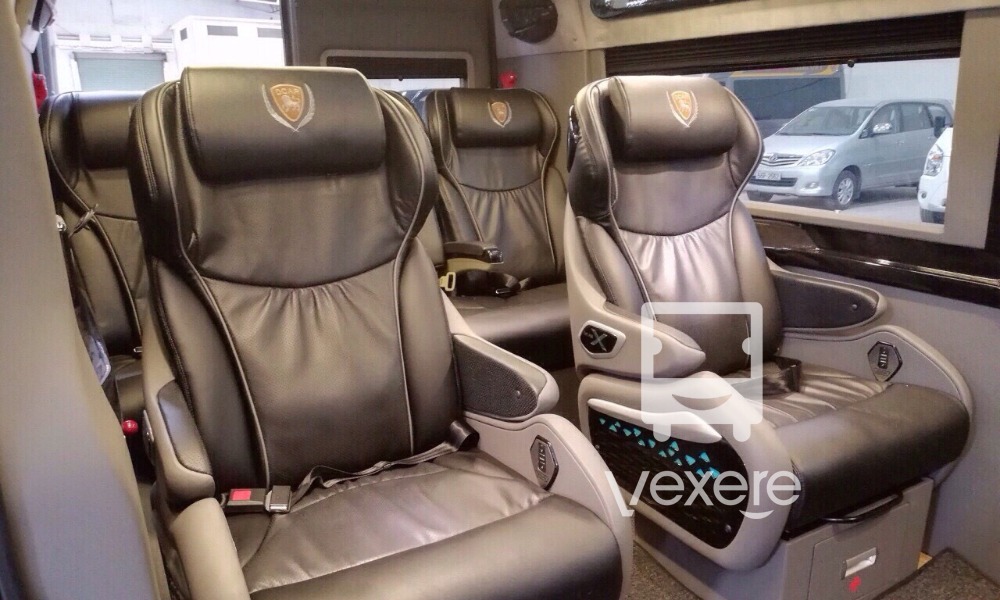 Azura Sapa Limousine Bus Review
PROS :
Free Pick up and drop off at your hotel (in Hanoi Old Quarter)
All staffs and drivers with many years of experience on each road. They can speak English well and friendly. Especially, the drivers are very careful. Safety and quality are put on the top.
CONS
Limousine to Sapa has only 9 seats so often have to reserve 4,5 days, especially weekend and VIP seats. Request for advance payment (for ticket or transfer). We recommend you to book ticket in advance, maybe a few days before your journey.
30% Surcharge on Tet Holiday
Some reviews from passengers
N.T.Minh : "Car quality is ok. I booked the wrong ticket and asked for the return of the ticket. I received the payment within 1 working day. Impressive! Information from the Customer Service Staff is accurate."
Jessy: "Good Service. The garage staff is very enthusiastic. On time. Calling to remind guests before pick up. Very humorous driver"
Canv: "We go to SaPa many times. Using Azura Sapa Limousine for the first time satisfied me enough. Seats in car are smooth, there are also full of facilities. The driver came on time, very attentive service attitude."
For more information about other bus tickets from Hanoi to Sapa – Lao Cai with the lowest price, visit VeXeRe.com