Blog VeXeRe - Kênh du lịch và xe khách Việt Nam
Arriving at Sapa by Daily Limousine, you will be able to discover the fanciful sights of Sapa, the friendliness of the ethnic people and the comfort as well as luxury. Daily Limousine is always ready to provide customers with the best service and help you make a memorable trip. Daily Sapa Limousine is now available for clients on the route Hanoi to Sapa every day. Sapa limousine became the best choice due to its convenience, time-saving and money-saving. Daily Limousine is outstanding with its most special feature as business class of the aircraft
Daily Limousine is a new high-end car company that has joined the field of passenger transport from Hanoi to Sa Pa and vice versa along the Noi Bai – Lao Cai highway. The car is referred to as "Boeing Ground" is a modern car D-car production in 2017 with a luxurious design and many useful features will bring visitors the most comfortable.
VeXeRe will give you detailed information about Daily Limousine Bus bus ticket from Hanoi to Sapa – Lao Cai below.
The Daily Limousine is a 16-seater Ford Car, but it is designed with only nine luxury leather seats. All the seats are large, have a place to hand, with sliding control from 10 to 45 degrees depending on the needs of guests. Two seats in the middle of the car, behind the driver can rotate 180 degrees, guests can sit opposite to each other if they want. The interior of the car is lined with wood, all things are arranged reasonably, convenient and reading lights are arranged separately in each seat.
This Daily Limousine offers two types of seats! Normal seats are the 2 seats near driver and 3 seats in the back. VIP seats are the 4 middle seats which have better view and are much more comfortable than the normal seats.
The car is equipped with Wifi, USB charging port at all seats, LED screen 21 inches in the center with the standard audio platform for entertainment. The windows on the car will give you a beautiful view of the countryside and the majestic scenery of the mountainous of the north. When using Daily Limousine service, you will be free of cold towels, water, snacks, fruits …
Using the services of Daily Limousine, customers will be extremely satisfied with the quality, price and style of dedicated service staffs.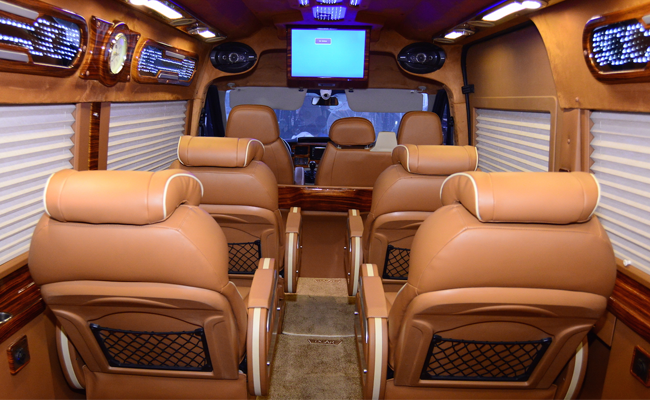 Daily Limousine Bus ticket from Hanoi to Sapa – Lao Cai: Price and contact information
Ticket price: 400,000 VND / ticket ~ 17. 2 USD / ticket.
Departure time: 06h30, 07h00, 07h30, 14h30 daily
Duration: 4 to 5 hours depending on your destination. However, the time may be different from the schedule due to traffic condition.
Passengers can contact directly or dial 1900 7070 for further information and support. In addition, you can book tickets online and easily select your seat at VeXeRe.com for the cheapest price.
Departure location:
Daily Limousine Bus offers door-to-door service so this limousine bus will pick you up/drop you off at your hotels in the Old quarter of Hanoi and in the Sapa Town. The Daily Limousine Bus from Hanoi to Sapa can pick you up/drop you off at airport in Hanoi too. On the journey, the car will stop two stops on the highway for guests to rest and personal hygiene, then continue the journey.
Contact information:
Daily Limousine Bus Office in Hanoi: 78 Tran Nhat Duat Street, Dong Xuan, Hanoi.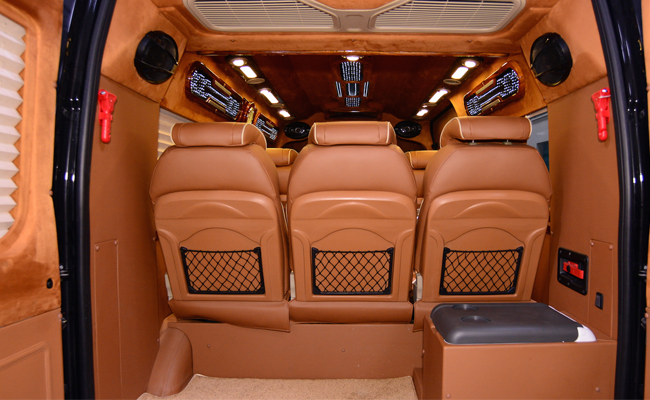 Review Daily Limousine bus ticket from Hanoi to Sapa – Lao Cai
Advantages: 
– Drivers are always running at a moderate pace, and customers can comfortably sleep or take a rest.
– Service staffs are enthusiastic, thoughtful, professional consultants to answer the questions of customers.
– Daily Limousine has a fixed departure time and free picks up at some points. Consequently, passengers can choose the appropriate trip.
Disadvantages: 
– Pick-up time varies depending on location, and actual traffic conditions.
– The end of the year is the peak travel months so you should book the tickets as soon as you can to avoid the unavailability, especially the bus has only 4 VIP seats so these seats are often fully booked far in advance. For your best experience, you should contact 1900 7070 or book online in advanced of the departure date.
Some reviews from passengers
Charlie : "The Bus was the best way to travel to Sapa; starting with the booking service and communication was fantastic !!. The bus was on time and comfortable, giving us water and snacks with WIFI access and stops on the way. I highly recommend the Daily limousine Bus if travelling to Sapa best way to go 5* service."
MT : "The Daily Limousine bus is a great way to get to Sapa and back from Hanoi. Very punctual, comfortable. Communication and information is top quality and the bus itself is very comfortable. Worth every penny. Two sizable stops and a free drink, snack and water just topped off the trip."
H.YEN: "They are so helpful to help you to find the van and quick to answer your question. My experience was fantastic! The seats were extremely comfortable, perfect for napping. I arrived in Sapa in a timely manner and the driver was extremely helpful."
For more information about other bus tickets from Hanoi to Sapa – Lao Cai with the lowest price, visit VeXeRe.com