Blog VeXeRe - Kênh du lịch và xe khách Việt Nam
Dalat is one of the most famous tourist destinations for many travellers to choose. That's why people take it into consideration when they choose which transportation is suitable for their long trip to Dalat. Among all the variety of buses, Dan Uyen is one of the best choices for who wants to travel to Dalat with the cheapest price. VeXeRe will give you all information about Dan Uyen bus ticket from Ho Chi Minh to Dalat.
Dan Uyen is a specialized vehicle operating on Ho Chi Minh Road – Da Lat route. With a good reputation in transportation for many years, Dan Uyen bus is proud to be trusted by many tourists. Dan Uyen has buses every day with short travel time, passengers can be flexible with their schedule.
Dan Uyen bus always cares about the attitude of the staffs towards the passengers. "Caring – considerate – polite" is the motto that Dan Uyen bus operators always remind each of their staffs to perform well with the purpose of bringing satisfaction to passengers.
The buses are equipped with modern furniture and facilities such as soft 30 – seat sitting chairs, air conditioner, free wifi and free drinking water.
They also have experienced bus drivers. They will never cram passengers or rush even in the peak hours. With overnight trips, drivers are still running at a normal speed, and customers can be assured that they will be asleep or rested during their travels.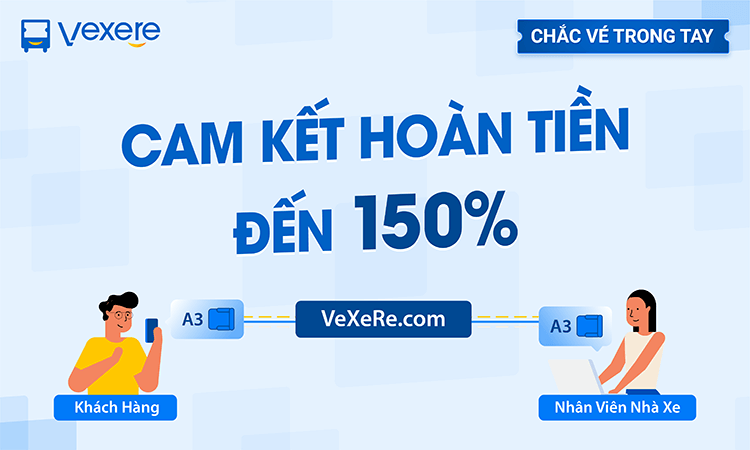 2. Dan Uyen bus ticket from Ho Chi Minh to Dalat: price and route information
The availability of tickets will depend on the time of booking. Normally, on weekends, the number of passengers travelling will be higher, so in order to get a good position, you need to plan and contact to book your tickets early. You can book Dan Uyen bus ticket from Ho Chi Minh to Dalat and vice versa with the lowest price at the website VeXeRe.com.
Departure time: 9h, 10h and 11h daily from Ho Chi Minh
Departure place: Eastern Bus Station: 292 Dinh Bo Linh, Ward 26, Binh Thanh District, Ho Chi Minh city.
Travel time: 7h -8h depends on the traffic condition.
Destination place: Highway 20, Bao Loc, Lam Dong and Dalat interprovincial bus station.
Ticket price: 150 000 VND / ticket ~ 6.4 USD / ticket.
Dan Uyen bus operator offers some pick-up locations on the road, so keeping in mind that the phone is always able to contact. After booking, you can use the ticket code to board on the bus. Tourists need to be available before departure time 30 minutes.
3. Dan Uyen bus ticket from Ho Chi Minh to Dalat contact information
Ho Chi Minh office: Ticket counter number 6, eastern bus station: 292 Dinh Bo Linh, Ward 26, Binh Thanh District, Ho Chi Minh city.
Dalat office: 23/10 Ba Trieu, Dalat, Lam Dong.
Dan Uyen also supports delivery at the head office. Details about shipping costs and shipping methods, please contact Dan Uyen bus office. The shipping costs will depend on the type, size and volume of your package.
You can contact Dan Uyen bus office directly to buy tickets or contact 1900 7070 for all information about the bus ticket.
For the best convenience, you can book tickets online at VeXeRe.com for up – to – date discount and cheapest price.
4. Review of Dan Uyen bus from Ho Chi Minh to Dalat
Advantage: The biggest advantage of travelling with Dan Uyen is the very competitive prices. These buses tend to be cheaper than tickets with some of the operator's competitors and far less than travelling by train. Dan Uyen Bus has a fixed departure time frame every day so it would be very punctual. Facilities on the buses are always guaranteed. Their dedicated drivers are always bringing the journey safer for passengers. The staffs always try their best to support customers during the trip.
Disadvantage: The bus itself is pretty comfortable, certainly ideal for some of the shorter trips, but it may be a bit cramped because it doesn't have a sleeper bus. Dan Uyen Bus is not as popular as others, but the company has its assured quality. Moreover, it only has 3 buses from Ho Chi Minh to Dalat, so tickets are usually fully booked on weekends or peak time. You should contact 1900 7070 or book online in advance for the best experience.
Some reviews of customers
Dung: "The first time travelling to Dalat, I choose Dan Uyen bus. It is a spacious bus, the driver is punctual. I really like how Dan Uyen provides its professional service. I love my trip to Dalat."
Uyen: "Good bus quality, comfortable seats, attentive service dedicated to the customer. I am afraid of car sick because the quality of the car is not good, because the driver is not professional. But with Dan Uyen, I feel very good, not tired at all. I will definitely choose this bus again.
For more information about other bus tickets from Ho Chi Minh to Dalat with the lowest price, visit VeXeRe.com