Blog Vexere - Kênh du lịch và xe khách Việt Nam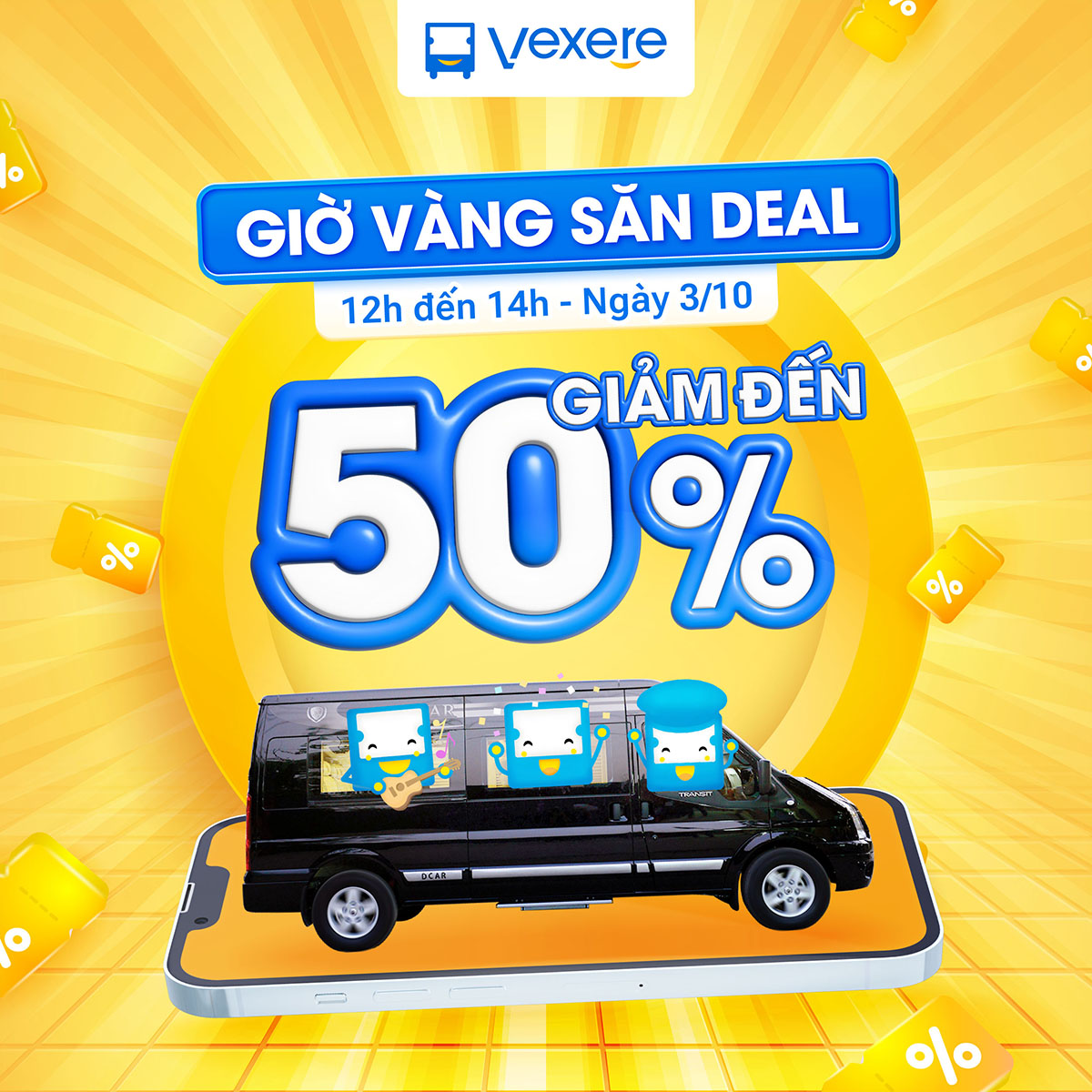 LƯU MÃ NGAY
Duy Long Hai Co., Ltd provides transport services from Hai Phong to Lao Cai with good quality service. Customer satisfaction is an evidence to their quality. Duy Long Hai Transport Co., Ltd constantly improves and develops its business, always looking for customers' needs to bring the best products and services to meet the expectations of customers. With the aim of being the leading unit in the transportation of passenger cars for international customers. Duy Long Company will bring the image of a beautiful and friendly Vietnam in the eyes of international friends.
Duy Long Bus to Sapa and detailed information.
With the new car – the brand of Hyundai Korea – comfortable, modern will bring you the satisfaction, comfort on all the way.
Starting from the actual needs of customers, Duy Long introduced fast bus service with a travel time of only 3h45 for a distance of nearly 300km. With NO PICK UP ALONG THE ROAD, Duy Long bus received positive reviews from customers.
Duy Long has two main lines of bus: regular bus and fast bus for VIPs with time only 3h45 for Hanoi Lao Cai and vice versa (only pay at Ha two Noi and Lao Cai), and bus lines are often picked up at many garage stops. All cars have soft mattress beds and full amenities: LED screen, wifi, two-way air conditioning, cold towels, mineral water…
With professionalism, enthusiasm, honesty Ha Son Hai Van will meet your needs quickly and conveniently,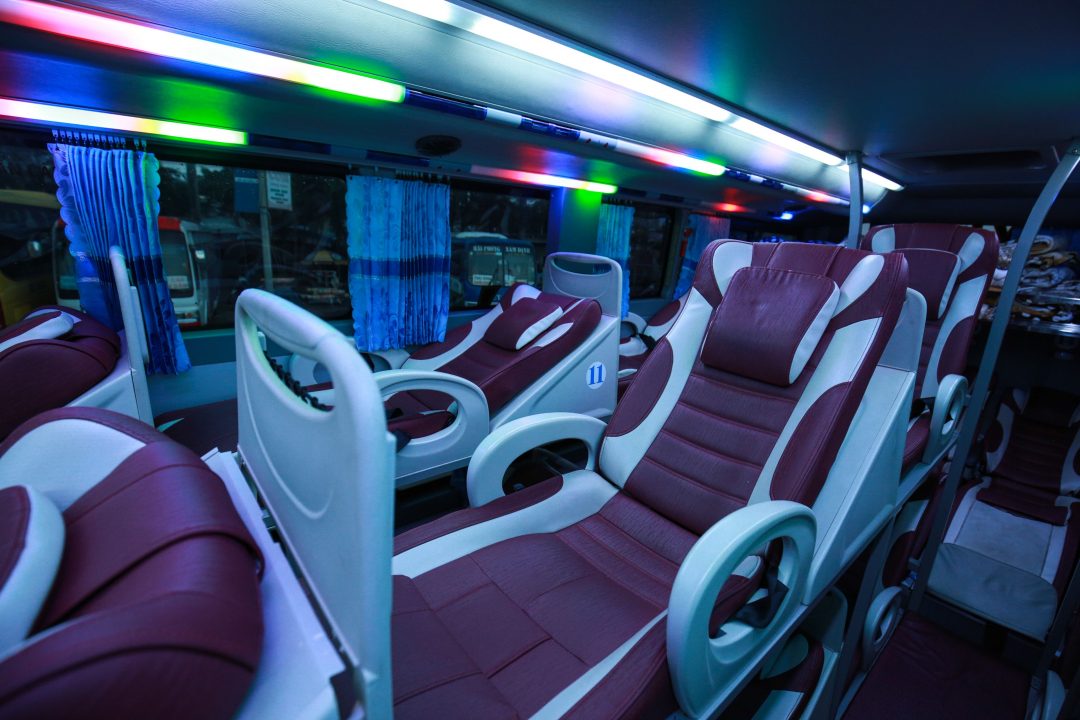 2. Duy Long Bus bus ticket from Hanoi to Sapa – Lao Cai: Price and contact information
Ticket price: 450,000 VND / ticket ~ 19.34 USD / ticket.
Departure time: 07h00; 09h00; 20h00; 21h00  daily
Duration: About 5,5 hours depending on your destination. However, the time may be different from the schedule due to traffic condition.
Passengers can contact directly or dial 1900 7070 for further information and support.
In addition, you can book tickets online and easily select your seat at VeXeRe.com for the cheapest price.
Departure location:
Starting point: My Dinh Bus Station
End point: Lao Cai Central Bus Station
About 04 trips / day
Passengers can book tickets in advance through 1900 7075
For your best experience while using Duy Long Bus, you should contact the operator beforehand if you want to have a transit bus. When the driver departs, he would contact you first, so you need to keep the phone with you.
Contact information:
Office Duy Long Bus:
Haiphong: 265 Tran Nguyen Han Street, Le Chan
Laocai: 061 Phan Dinh Phung – New Town
Sapa: 785 Dien Bien Phu Street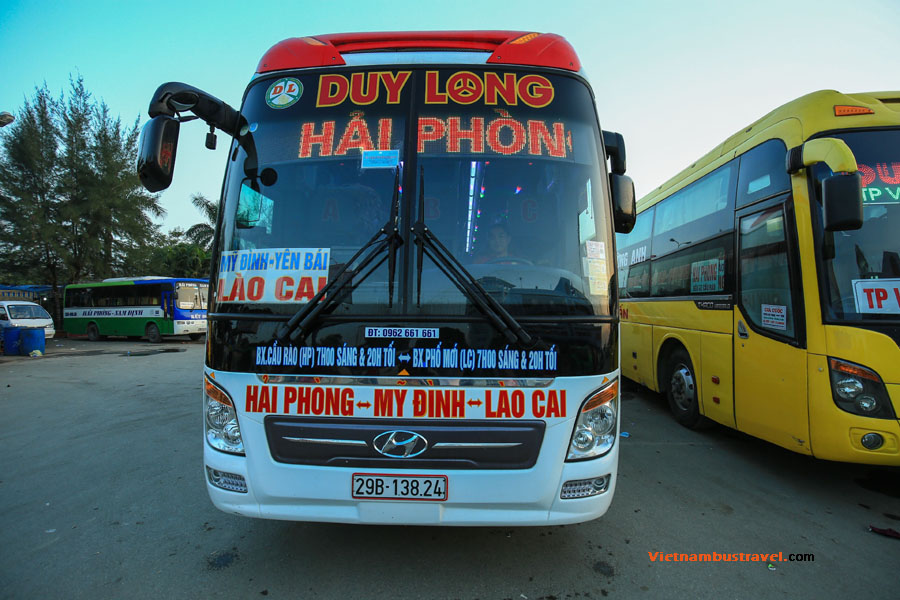 Review Duy Long Bus bus ticket from Hanoi to Sapa – Lao Cai
Advantages:
– The car runs smoothly and drivers are very carefully. They always put the satisfaction of passengers on its priority
– The company has enthusiastic, professional staffs and experienced who are able to communicate well in English. This helps a lot in supporting foreign passengers.
– On overnight trips, drivers are still running at a moderate pace, and customers can comfortably sleep or take a rest.
Disadvantages:
– Pick-up time varies based on location, and real-time traffic conditions.
– The tickets of Duy Long Bus are usually sold out at the peak time. You should book ticket at least 3 -4 days before your trip. Moreover, you have another choice is contacting 1900 7070 or booking online in advanced of the departure date for the best experience.
Some reviews from passengers
Hanh : "I have never visited many beautiful sightseeings in Viet Nam and Cat Ba island is one of the most interesting, fascinating and exciting islands.
After that, I bought a ticket to Sa Pa of Duy Long bus. First, I thought that bus was also same other buses, so normally. But I hate changing my thought, Duy Long 's service is very excellent. They picked me up at ferry to Cau Rao station. On the bus I was served a bottle drinking water and tissues. Duy Long's staff is so friendly.
In my opinion, I think Duy Long is the best company in tranportation!"
Nam: "I used to experience a lot of buses, but to tell the truth, we were impressed by the drivers, and the staff of Duy Long bus. They were enthusiastic. Besides, they always have foreign guests, I have children and they can communicate with foreigners on the way. Sincerely thanks Duy Long"
Duanksa: "Duy Long travel from Nha Trang to Dalat is perfect. I saw the driver driving as safe, their staff guide me to seat friendly. I will come back again."
For more information about other bus tickets from Hanoi to Sapa – Lao Cai with the lowest price, visit VeXeRe.com