Blog VeXeRe - Kênh du lịch và xe khách Việt Nam
Sapa is among the top 3 most visited places in Northern Vietnam after Ha Noi and Ha Long Bay. Most of visitors travel by the overnight train from Ha Noi to Lao Cai. Besides, you can travel on this route by a local public bus, which is much cheape, or private bus companies. There are also some very comfortable direct buses from Ha Noi to Sapa – Lao Cai. Due to its location, around 350km from Hanoi and there is no airport in Sapa, the only choice you have to make is whether to take the train or bus to Sapa. In this post, Vexere will show you detailed information of Fansipan Express Bus – a reliable bus company that you can note for your trip to Sapa!
Fansipan Express Bus is the good choice for those who want to enjoy private space, luxury beds with professional staffs on your trip to Sapa.It has 02 car lines, 34-seat and 20-seat VIP cabins. Both are the newest bed lines on the route Ha Noi – Sapa with the European Standard closed toilet on the car.
Fansipan Express Bus's 34-seat vehicle is the new 2018 Thaco Mobihome. Instead of the 42-bed model before, larger, more comfortable with the open space. The bus has full modern facilities such as drinking water, blankets, air conditioning, mini fridge, large screen television, wifi and friendly tour guide.
Fansipan Express Bus 20 seats VIP bus is a Mobihome 20-bed VIP cabin. The cabin bed is wide. Each cabin is designed as a miniature hotel with glass windows, with curtain and partition walls between the cabins, creating a feeling of comfort and privacy for passengers. Each one is equipped with a 5-star entertainment system with reading lights, USB charging port, free wifi, 17-inch LCD monitor and HD player.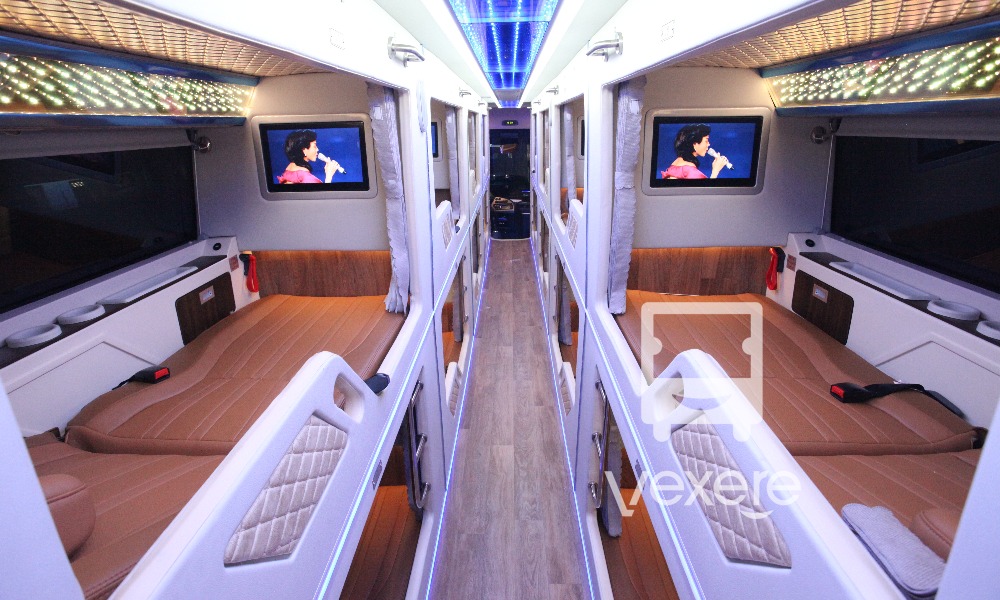 Fansipan Express Bus bus ticket from Hanoi to Sapa – Lao Cai: Price and contact information
Ticket price, departure time and location:
250,000 – 400,000 VND  – 10.74 – 17.19 USD/ ticket depends on the type of vehicle.
Depature time from Hanoi : 07h00 and 22h00 daily
The car will pick up at the office of the Ha Noi Old Town or Hoan Kiem district.
You should keep the phone with you for the driver to contact, the pick-up time is just the expected time which will definitely be a difference. Should avoid unexpected situations, you should prepare before the appointment.
Duration: It takes 5,5 hours from Hanoi to Sapa (you will have 30 minutes relax on midway before get Sapa town)
Passengers can contact directly or dial 1900 7070 for further information and support.
In addition, you can book tickets online and easily select your seat at VeXeRe.com for the cheapest price.
Contact information:
Headquarter: 41 Luong Van Can, Hoan Kiem district, Hanoi.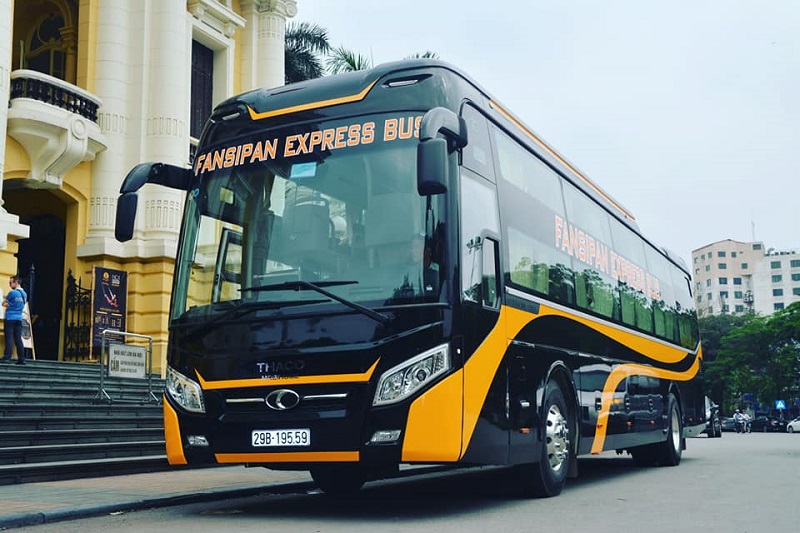 3. Review Fansipan Express Bus from Hanoi to Sapa – Lao Cai
Advantages: 
The bus travels in the day, which means you that you can see some pretty spectacular scenery on the drive. You can get good sleep
All staffs and drivers have many years of experience on each road. Especially, the drivers are very careful. Safety and quality are put on the top. No crowding, no taking passengers along the road.
On overnight trips, the roads in Sapa are pretty bendy and winding with steep cliffs, drivers are still running at a moderate pace, and customers can comfortably sleep or take a rest.
Fansipan Express Bus also supports good delivery at the head office. Details about shipping costs and shipping methods, please contact us at the front of the office, shipping costs will depend on type, size and volume.
Disadvantages: 
The buses are arranged depending on the turnaround, so you do not know the information of number plate and the driver in advance. If you have a need to know, contact the hotline right away.
Available seats of Inter Bus Lines will depend on the booking time especially on weekends or holidays, in order to make your trip even better, you need to plan early and book online Inter Bus Lines from Hanoi to Sapa with the lowest price at VeXeRe.com website.
Or you should contact 1900 7070 in advanced of the departure date for the best experience.
Some reviews from passengers
Peter : "We are a group of 6 people from Korea. We are students so we contacted Fansipan Sapa Express Sapa bus via their website to book for our Group. They confirmed quickly with the low price. Very friendly driver and staft.."
Kelvin T: "Booking by Vexere is very fast and simple. New car, equipment is modern. The staff is very friendly, the driver is very welcoming, enthusiastic and funny."
Ruby: "I arrived in Sapa by Fansipan Exrpress Sapa bus. It feels very good, friendly and safe. It has cabins and clean closed toilet on the bus. Pleased to take this bus!"
For more information about other bus tickets from Hanoi to Sapa – Lao Cai with the lowest price, visit VeXeRe.com