Blog VeXeRe - Kênh du lịch và xe khách Việt Nam
The Green Bus operator has belonged to Green SaPa Tourist Company. Founded in 2017, the Green Bus takes great pride in organizing unique, exciting bus lines from Hanoi to Sapa and the way back. With a good reputation in transportation for years, Green Bus is proud to be trusted by many tourists. In this blog, VeXeRe.com will give you detailed information and review about Green Bus SaPa to Ha Noi.
1. About Green Bus to Ha Noi
Green Bus SaPa to Ha Noi bus is gradually affirming its brand's position in the transportation industry with the high-quality bus service system. The bus company has imported high-quality Hyundai Tracomeco Universe Noble 38 and 40 sleeper buses from South Korea in order to serve the bests to their passengers.
The buses are equipped with modern furniture and facilities with soft leather seats. Each passenger will also be provided with free mineral water and tissue. Tourists can enjoy other free services such as wifi connection, TVs, two-way air conditioner, travelling blanket and so on. This allows travellers to have an enjoyable ride to their destinations no matter near or far.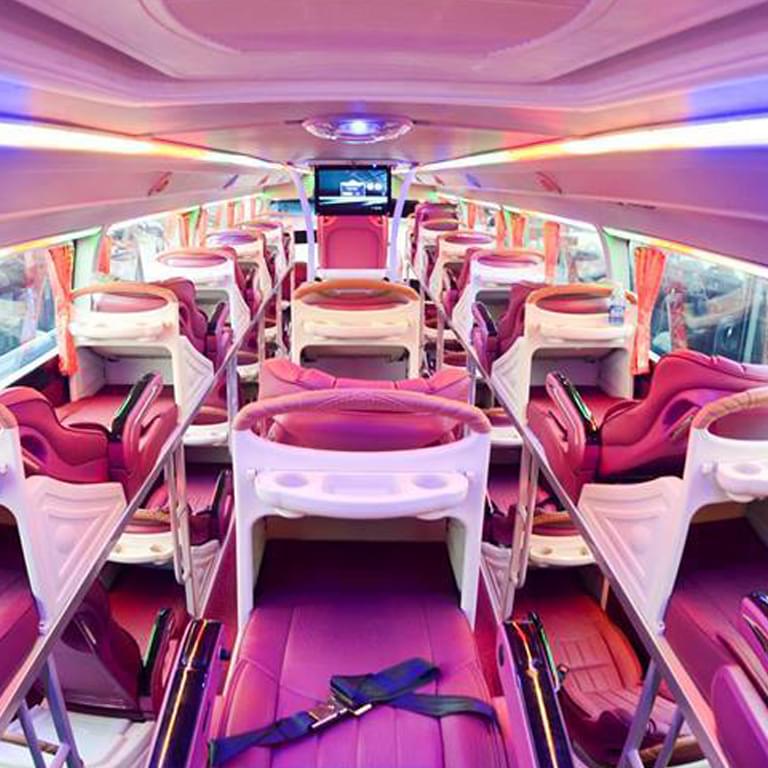 The drive will take around 6 hours and you will have short breaks during the drive so you can relax, go to the restroom, and buy some food or drinks. The staffs of Green Bus are very thoughtful and professional, who will kindly help you during the trip. Green Bus' drivers are experienced. They will never cram passengers or rush even in peak hours. With overnight trips, drivers are still running at a normal speed, and customers can be assured that they will be asleep or rested during their travels.
2. Green Bus Sapa to Ha Noi: price and route information
Departure time:
The Sai Gon – Nha Trang route: 8h, 13h30, 15h30, 16h, and 22h daily
Departure place:
In SaPa:
Sapa office: 618 Dien Bien Phu, SaPa, Lao Cai Province.
The staffs will give you detailed address when you buy tickets. In Ha Noi, transfer by 7-seat car in the old town area, pick up at Kim Anh junction near the airport. If you want the shuttle bus go straight to the airport, you have to pay 40000 VND/ group. In Sapa: Pick up at 25 Kim Dong and Stone Church. Kim Dong office is a café so you can sit and wait comfortably.
Destination place:
Ha Noi office: 21 Hang Thung, Hoan Kiem, Ha Noi and
Kim Anh intersection, Soc Son, Ha Noi.
Travel time:
Expectedly 5h30 – 6h30. The duration depends on your destination. However, the time may be different from the schedule due to traffic and weather condition.
Ticket price:
250.000 VND / ticket ~ 10.78 USD / ticket.
Contact information:
Therefore, you can buy tickets directly at the ticket offices of Green Bus company at:
Ha Noi: 21 Hang Thung, Hoan Kiem, Ha Noi.
SaPa: 618 Dien Bien Phu, SaPa, Lao Cai and 147 Thach Son, Lao Cai.
or contact 1900 7070 for all information about Green Bus SaPa to Ha Noi.
Alternatively, you can also book the bus ticket online over here on our website VeXeRe.com through a few simple steps for the cheapest price.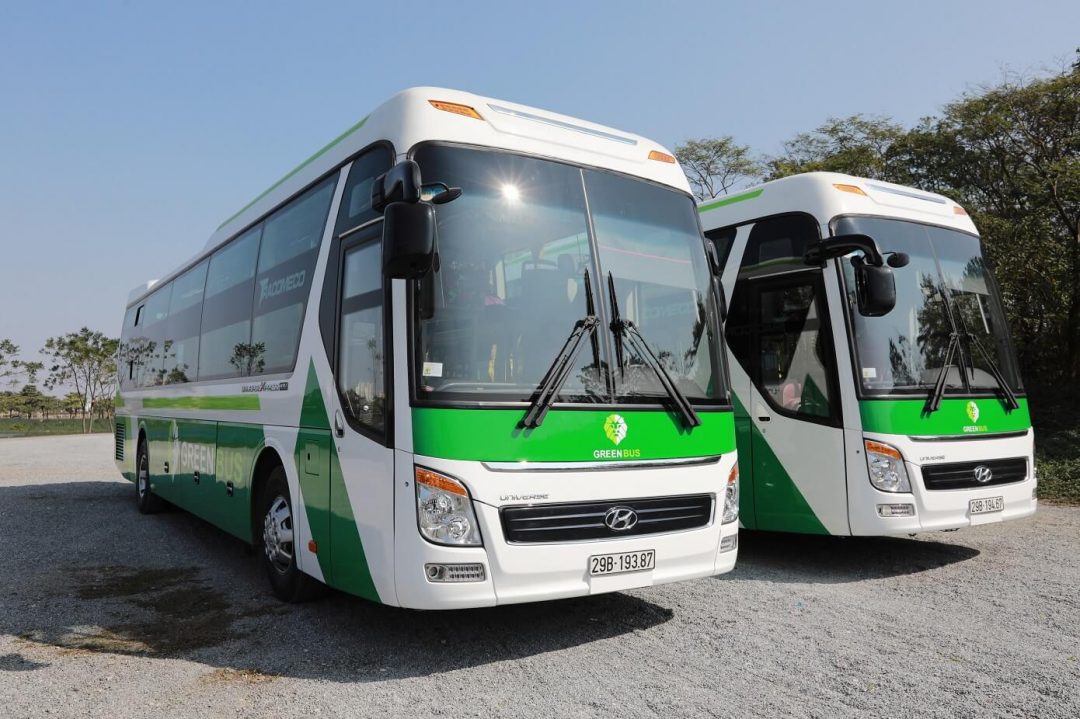 3. Review Green Bus SaPa to Ha Noi
Advantage: The biggest advantage of travelling by Green Bus is very competitive prices. Green Bus has a fixed departure time frame every day so it would be very punctual. Facilities on the buses are always guaranteed. Their dedicated drivers are always bringing the journey safer for passengers. The staffs always try their best to support customers during the trip.
Disadvantage: Although Green Bus doesn't have as many experiences as other bus operators, it has gained popularity in recent years. As a whole, tickets are usually fully booked on weekends or peak time. You should contact 1900 7070 or book online in advance for the best experience.
Review of passengers
M.Cipriani: "Took the Green Bus from Hanoi to Sapa. The bus was in good condition, exceptionally clean and comfortable. More importantly, the driver was very safe on the roads particularly when it was raining going up to Sapa."
Wang: "If you go to Sapa get Green Bus. What a chilled tour that was, even better than many bus operators in Europe. Extremely comfortable and the guide also makes sure that you get all messages in English. I tried the buses as well as trains for this route and I strongly recommend to take the bus."
Linda: "I took the sleeper green bus to and from Hanoi to Sapa. Out of the bus companies in Vietnam, this is one of the best options you can find. They will arrange to pick you up and drop you off at your hotel so it's no effort or stress on your part and while their English is, they will definitely do their best to take care of you and make sure you have what you need."
For more information about other bus tickets from SaPa to Ha Noi or vice versa with the lowest price, visit VeXeRe.com