Green Lion Bus is a professional 9-seat limousine operator on the Ha Noi – Sapa route.
With new car array and many other gadgets such as drinking water, free wifi, USB charging port, DVD …, Green Lion Bus company expects to give passengers the best experience when using use their services. Besides, the car has a team of professional drivers and many experiences.
Green Lion Bus Sapa is the very first company offering Dcar Limousine Bus Hanoi – Sapa – Hanoi. The comfort is high as the van is equipped with only 9 flight seats instead of the normal 16 seats, making feeling of relaxation after the Sapa's journey. It offers daily bus Hanoi – Sapa – Hanoi with fixed schedules.
Type: 9-seat Limousine. The limousine is upgraded from the 16-seat car to the 9 – seat one. It's equipped with many modern furnitures.

Departure time: 7h30, 7h31, 7h32 and 7h33 daily.

Travel time: About 5:00 to 6:00 depending on the destination. However, time may vary due to traffic situation.

Place of departure: 16E Phung Hung, Hoan Kiem, Ha Noi.

Destination: Sapa Bus Station

Pick up points: picks up passengers along the way for those with pre-booked tickets. Passengers can contact in advance via 1900 7070.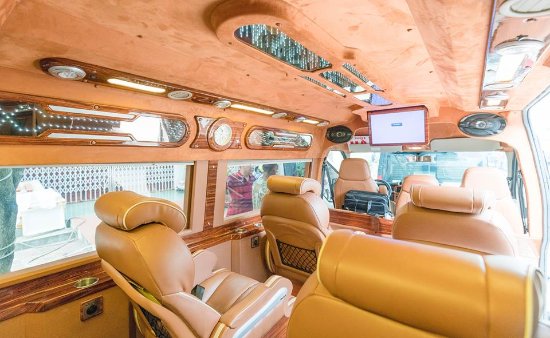 GreenLion Bus's Office: 16E Phung Hung, Hoan Kiem, Ha Noi. Support to pick up passengers in the old town centre and Noi Bai crossroad.

Green Lion Bus Limousine support transfer passengers in SaPa town or pick up at SaPa Bus Station. You should contact 1900 7070 in advance for the best experience.

Advantages: Staffs are enthusiastic, thoughtful, professionally answer the questions of customers.
– GreenLion Bus has a fixed departure time and free pick up at some points so passengers can choose the appropriate trip. Besides, the schedule of Golden Horse Limousine Vip is quite reasonable. It arrives in Sapa at noon, guests can come and check-in on time, have lunch, relax and visit Sapa. But in the early morning, guests must get up early to check out hotel.
Disadvantages: There usually full-booked tickets early on weekends or peak time. You should contact 1900 7070 or book tickets online for more information.
Review of passengers
Johnny123: "I and my friends had such a nice trip in Sa Pa, amazing weather with beautiful terraced fields in the middle of September. I have been known GreenLion Bus on Vexere, based on good reviews from others, we decided to choose its service immediately for our transportation from Noi Bai airport to Sapa without hesitation "
TTVăn: "Paid around 20 usd for one-way luxury bus to Sapa. The seat was comfortable. the driver was very friendly. I am happy with this service."
Kat_Jenny: "Would highly recommend Green Lion for your trip to Sapa. We travelled the length of Vietnam and this was by far the best transport service we received. It was 400k per person so around £14, this included the hotel transfer in Hanoi and Sapa. There are a couple of stops along the way for a toilet break, the bus was comfortable and the staffs were very helpful, couldn't ask for more!"
For more information about other bus tickets from Hanoi to Sapa – Lao Cai with the lowest price, visit VeXeRe.com