Nha Trang is a coastal city nestled between a chain of mountains and the sea. It's mainly a resort town where many tourists come to enjoy the amazing beaches and the beautiful islands. The distance between Ho Chi Minh and Nha Trang is about 450 km, but don't worry, there are many ways to travel to Nha Trang now. If you go by sleeping bus, there are many choices such as Phuong Trang, Hanh Café, the Sinh Tourist… but one of the best one is Huynh Gia bus. This blog by VeXeRe.com will give you the newest review from A to Z about Huynh Gia bus ticket from Ho Chi Minh to Nha Trang.
1. About Huynh Gia bus operator to Nha Trang
Huynh Gia bus operator is established in 2014 with the main business activities in the field of tourism, passenger transport and cargo transportation. Their motto is to bring the highest benefit to customers through the top quality service. The company is always looking for ways to increase comfort for passengers on high-quality trips. On the other hand, Huynh Gia continuously enhances the after-sales service to ensure the highest benefit to customers.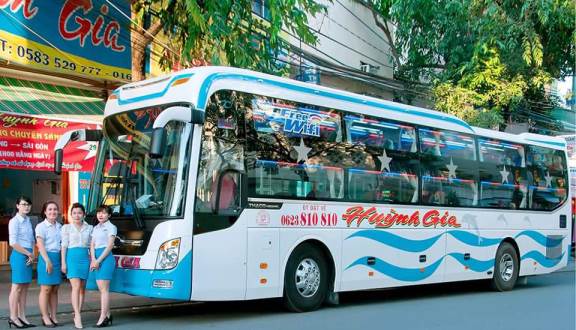 Huynh Gia Company attaches great importance to creating a modern, dynamic and friendly working environment and giving career development opportunities to all members. Customer satisfaction is a testimony to the quality of service provided by the company. We constantly improve and develop our business capabilities, always find out the needs of customers to bring the best products and services to meet the expectations of customers.
With highly-skilled drivers behind the wheels, travellers are able to enjoy the facilities installed on most of the 42 – seats sleeper buses such as the TVs, air-conditioning systems, free wifi and toilet. This allows travellers to have an enjoyable ride to their destinations no matter near or far.
2. Huynh Gia bus ticket from Ho Chi Minh to Nha Trang: price and route information
Departure time:
Sai Gon – Nha Trang: 8h30, 11h30, 20h, 21h, 22h and 22h30 daily
Nha Trang – Sai Gon: 8h, 20h, 20h30, 21h and 22h daily
Departure place:
In Sai Gon: Huynh Gia bus will depart in 2 address:
275H Pham Ngu Lao Street, District 1, Ho Chi Minh
Bus Station in 23/9 Park, District 1, Ho Chi Minh
The staffs will give you detailed address when you buy tickets. However, Huynh Gia bus doesn't have shuttle buses in Ho Chi Minh or Nha Trang to transfer you to the departure place. But don't worry, the two bus stations are near each other and located in cities' tourist hubs.
Destination place:
16 – 18 Nguyen Chanh Street, Nha Trang, Khanh Hoa
Travel time:
expectedly 9h – 10h. The duration depends on your destination. However, the time may be different from the schedule due to traffic condition.
If you are in Sai Gon, you have to go to the departure place 30 minutes earlier. If you are in nearby provinces, Huynh Gia bus can support picking you up on the travel route. Nevertheless, you should give the staff detailed information about your pickup point and phone number for drivers to contact easily.
Ticket price:
200.000 VND / ticket ~ 8.54 USD / ticket.
Contact information:
Therefore, you can buy tickets directly at the ticket offices of Huynh Gia bus company at:
Sai Gon: 275H Pham Ngu Lao Street, District 1, Ho Chi Minh.
Nha Trang: 16 – 18 Nguyen Chanh Street, Nha Trang, Khanh Hoa.
or contact 1900 7070 for all information about Huynh Gia bus ticket from Ho Chi Minh to Nha Trang.
Alternatively, you can also book the bus ticket online over here on our website VeXeRe.com through a few simple steps for the cheapest price.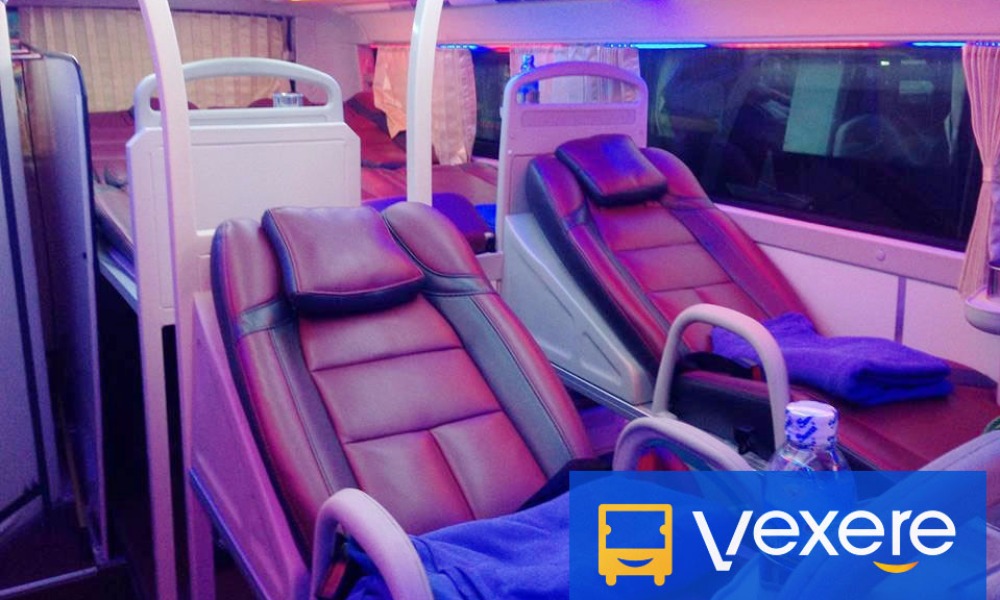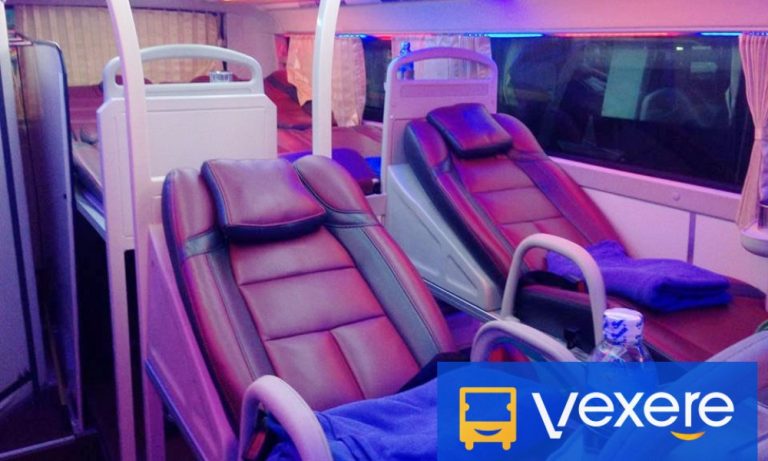 3. Review Huynh Gia bus ticket from Ho Chi Minh to Nha Trang
Pros: The biggest advantage of travelling with Huynh Gia is the very competitive prices and new furniture inside. Huynh Gia bus also has a fixed departure time frame daily. Facilities and equipment on the buses are always guaranteed. Their dedicated drivers are always bringing the journey safer for passengers. The staffs always try their best to support customers during the trip.
Cons: The bus itself is pretty comfortable, certainly ideal for some of the shorter trips, but it may be a bit cramped for tall visitors. Because Huynh Gia bus support picking up tourists along the route so some passengers could be annoyed. Moreover, it only has 5 bus from Ho Chi Minh to Nha Trang, so tickets are usually fully booked on weekends or peak time. You should contact 1900 7070 or book online in advance for the best experience.
Review from passengers
L. Lu: "The only bus in Saigon I used to book that has a toilet on board. For me, that's second to none! I always book them."
D. Wibowo: "Generally it was OK and the driver drove carefully, which is very rare and nice for Vietnamese standard. Not very punctual – our bus arrived 30 minutes late in Nha Trang, and the bus staff was not really friendly, but the office staff was nice. Onboard, they play Vietnamese drama most of the way, though not too loud."
Tuynma: "Huynh Gia is fairly good quality, careful driver running well, day meal tickets for Nha Trang to find enthusiastic staff and concierge."
For more information about other bus tickets from Ho Chi Minh to Nha Trang with the lowest price, visit VeXeRe.com