La Gi is fortunate to lie between two expensive tourist urban areas, Phan Thiet and Vung Tau, so it is received many short and cheap tours. Passengers often choose travel by car, but the most convenience and comfortable are still limousine bus to La Gi. If still undecided "Which limousine buses to La Gi?", "Which is the best car to go to La Gi. You should check out the article below with VeXeRe.com.

The high-quality limousine bus to La Gi has a La Ha limousine carmarker. Here VeXeRe.com General Information about prestigious limousine bus to La Gi.
Which way to go to La Gi by limousine bus?
From Saigon City to La Gi City of La Gi Province has about 152km geography length. Travel time about 3 to 4 hours.

Follow Truong Chinh Street, turn into Cong Hoa Street and turn left to go to the overpass Cong Hoa – Hoang Van Thu. Follow the right side at Mekong Hospital go straight into Nguyen Van Troi Street about 87m. Then, turn on the Truong Sa street about 3.1 km and 1.2 km turn left to reach Dien Bien Phu Street. Keep on going the left side to reach the overpass Hang Xanh 500m.
Then, driving from Ho Chi Minh City-Long Thanh – Dau Giay Expressway / 01 Expressway and Highway No.51 to My Xuan about 54 minutes; 49,6km.
Next, you keep on going Phu My – Toc Tien, Road No. 1 (expanded), Road No. 1 prolonged and Suoi Rao -Phuoc Tan to Highway No.55 at Bong Trang takes 53 minutes approximately 45.1 km.
Turn left Highway No.55 about 48 minutes (41.2 km), go to Dinh Bo Linh Street, driving to Chuong Duong/ Truong Vinh Ky at Xuan Lo. Turn left at the Kim Tuyen gold shop, go into Ben Chuong Duong/ Truong Vinh Ky is about 37m and arrived.

Passengers should be at least 30 minutes before the departure time for procedures. Some cars usually support guest with advance booking. The pickup place is a fixed point located on the route.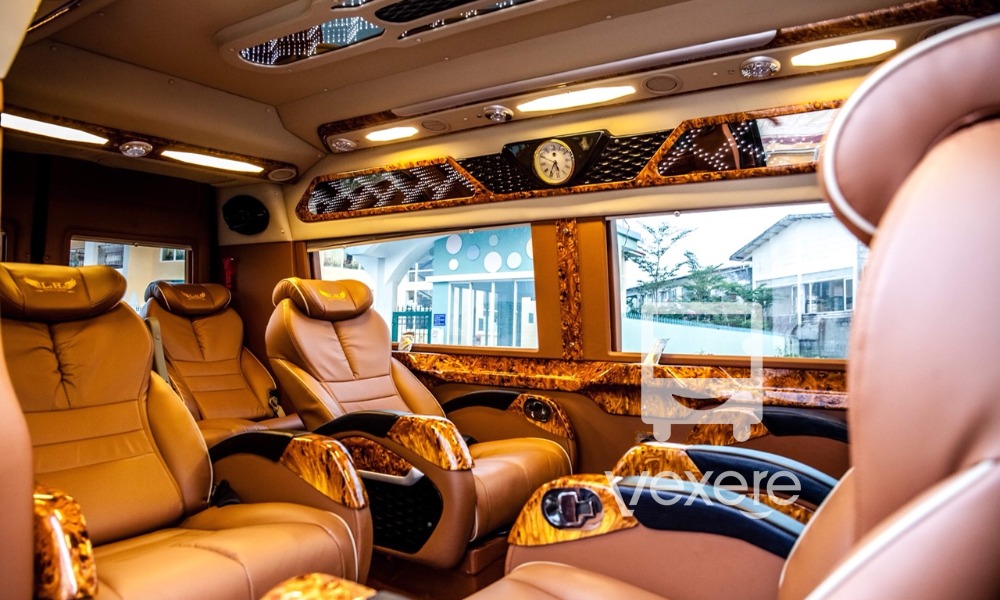 With the motto "The customer is relative", LaHa Limousine to La Gi provide premium transportation service, safety, convenient and comfortable by using the VIP cars are designed perfectly.

The top priority of LaHa Limousine is to give customers a perfect service quality, enthusiastic service style, professional, satisfy all customer expectations.
Type: Limousine 9 seats, improved from 16 seats to 9 seats. With business class seats and equipped with lots of modern amenities.
Departure time: 7a.m, 9a.m, 11a.m, 13p.m, 15p.m, 18p.m, 20p.m and 21p.m daily.
Travel time: about 6 hour and half to 7 hour. However, the arrival time depends on the traffic situation.
Departure point:: In Saigon, the car still has no office, but support pickup door-to-door in Saigon or crossroads Hang Xanh, 178/9 Dien Bien Phu Street, Ward 21, Binh Thanh District.

Destination: In Binh Thuan, supportto pickup or transfer in the center. Or customers can contact the office at 126 Thong Nhat Street, Quarter No.10, Phuoc Hoi Ward, Lagi Town, Binh Thuan Province. Drivers will proactively contact half an hour before departure time to transfer guests.
Booking online now:
LaHa Limousine from Sai Gon to Binh Thuan
LaHa Limousine from Binh Thuan to Sai Gon
See more operators and routes and book tickets at the lowest prices at VeXeRe.com
Buses from from Sai Gon to Binh Thuan
Buses from Binh Thuan to Sai Gon