Blog VeXeRe - Kênh du lịch và xe khách Việt Nam
Sapa (approximately 376km away from Ha Noi) is an attractive and famous travel destination. This place attracts many tourists every year due to the romantic, peaceful, natural scenery, ethnic villages, terraced rice fields and hills. Hanoi – Sapa bus is the best choice for many passengers nowadays replacing Hanoi – Sapa trains with low fares and many trips per day.
So, transports, especially buses are increasingly developing. Among them Nam Cuong Vip Tour Bus is one of the most familiar names for tourists in the field of travel services. Having been established and developed for long time, overcoming many difficulties and challenges, Nam Cuong Vip Tour Bus has gradually affirmed its prestige in the competitive travel market
Being well-appointed with modern facilities, Nam Cuong Vip Tour Bus will bring tourists unique experiences for a long journey to reach the most favorite destination in Vietnam.
With a long-term operation, long-term customer service, experienced staff, Nam Cuong Vip Tour Bus to SaPa in particular has gradually become a trusted friend of customers.
The sleeper – bus is a popular Universe design. Structure of furniture is 2 floors, spaciously designed, creating comfortable and luxurious space for passengers as soon as entered. The equipment includes: sound system with 4 LCD screens, bed trays, various colors, perfect design.
All 40 beds in the car are made of high-quality leather which is smooth and clean. Blankets and pillows are soft. Complimentary soft drinks and towels and many other utilities such as: wifi, air conditioner, … help passengers feel like they are in their own home.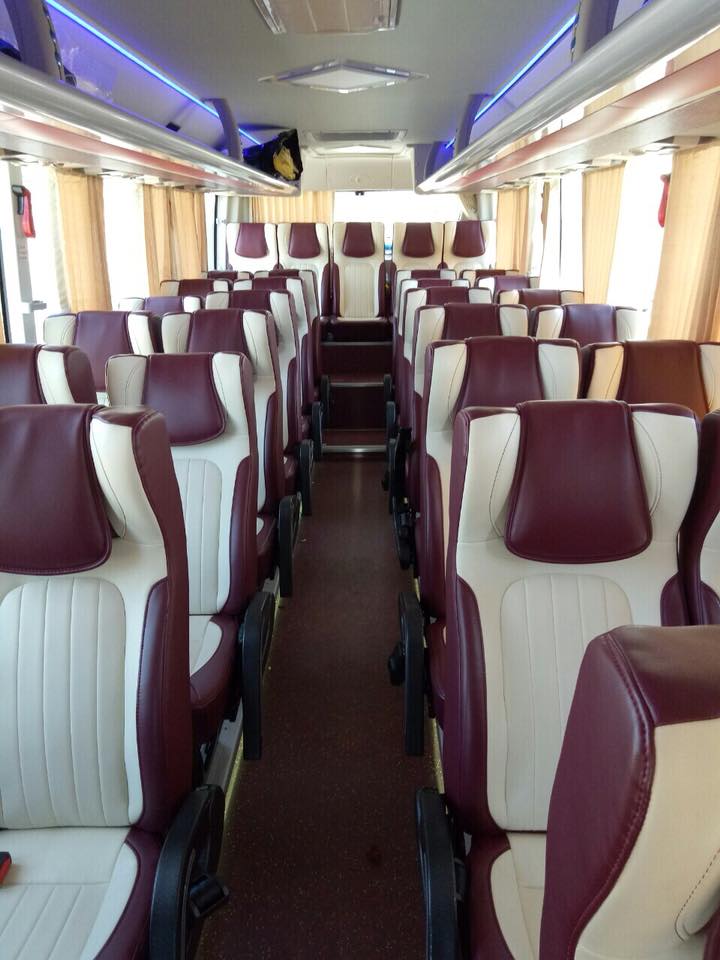 Nam Cuong Vip Tour Bus ticket from Hanoi to Sapa – Lao Cai: Detailed Information.
Ticket price: 200,000 VND / ticket ~ 15.2 USD / ticket.
Duration: ~ 5 hours depending on your destination. However, the time may be different from the schedule due to traffic condition.
Passengers can contact directly or dial 1900 7070 for further information and support.
In addition, you can book Nam Cuong Vip Tour Bus tickets to SaPa from Hanoi easily and conveniently pay through online booking system Vexere.vn.
Pick-up time varies depending on location, pick-up, and actual traffic conditions.
Departure location:
The car has a departure location in the My Dinh Bus station or its office so it is very convenient for passengers.
For your best experience while using Nam Cuong Vip Tour Bus, you should contact the operator beforehand if you want to have a transit bus. When the driver departs, he would contact you first, so you need to keep the phone with you.
Contact information:
+ Hanoi: 06 Vu Thach, Dong Da, Hanoi
Review Nam Cuong Vip Tour Bus bus ticket from Hanoi to Sapa – Lao Cai
Advantages:
The schedule of Nam Cuong Vip Tour Bus is quite reasonable. It arrives in Sapa at noon, guests can come and check-in on time, have lunch, relax and visit Sapa. But in the early morning, guests must get up early to check out hotel.
The interior of the car is designed with lots of improvement including changing old seats into larger seats which would be suitable for all passengers.
They train the Drivers and staffs professionally; Towards a courteous, caring and attentive service style, ensuring the comfort and safety of the absolute customer.
Disadvantages:
Pick-up time varies depending on passenger's location and actual traffic conditions.
Nam Cuong Vip Tour Bus tickets are usually unvailable on weekends or holidays. You should contact 1900 7070 or book online in advanced of the departure date for the best experience.
Some reviews from passengers
Hunny: "We booked the Nam Cuong Vip Tour bus through Vexere and there is nothing to complain! The agent responded our emails very quickly. We got good seats on the bus for both ways and the bus was on time! Thank you very much for your excellent services!"
Will67: "We are now planning our trip to Vietnam. While making decisions on what kind of transport to Sapa for a side trip, we found the Nam Cuong Vip tour Bus service.
We were so pleased with the friendly, prompt email response to our questions"
TIN: "I have just booked this bus to Sapa. The booking process has been very professional and replies to emails have been very quick. Very impressed with how quickly everything has been arranged. Will review further after I use the service."
Syp: "The ride was very comfortable, as compared to the one we took when going back (there weren't any tickets left on this bus), the charging ports and wifi was handy and good."
For more information about other bus tickets from Hanoi to Sapa – Lao Cai with the lowest price, visit VeXeRe.com