Blog VeXeRe - Kênh du lịch và xe khách Việt Nam
As Vietnam's top-rated local ticketing agency, Discovering Sapa in Vietnam has satisfied millions of customers traveling to and from Sapa. With daily Hanoi – Sapa – Hanoi service, you can plan your trip in your own way. The only way to get to Hanoi from Sapa is overland as there is no airport in the vicinity. Travelling this route by train is a classic Vietnamese experience, but buses do a good job, too, and the choice of the means of transport depends entirely on your own preferences. The distance between Sapa and Hanoi is about 300 km but be ready that your journey will take from eight hours to 10 hours.
Nowadays, you can travel from Hanoi to Sapa by bus via the new highway in about 6 hours. And there are many of bus companies which provide good services for your trip. Among them, Phuc An Bus to Sapa is considered to be one of the best quality cars on this route. Let's quickly pull down to notice the most convenient travel experience!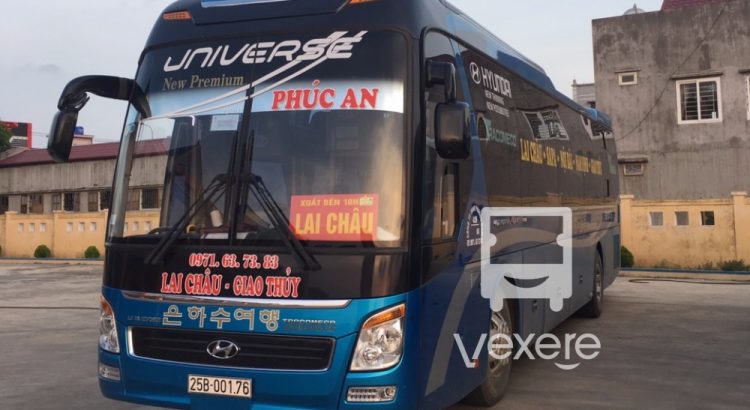 Phuc An Bus to Sapa
With a long-term operation, long-term customer service, experienced staff, Phuc An to SaPa in particular has gradually become a trusted friend of customers.
The sleeper – bus is a famous Universe design. Structure of furniture is 2 floors, spaciously designed, creating comfortable and luxurious space for passengers as soon as entered. The equipment includes: sound system with 4 LCD screens, bed trays, various colors, perfect design.
All 40 beds in the car are made of high-quality leather which is smooth and clean. Blankets and pillows are soft. Complimentary soft drinks and towels and many other utilities such as: wifi, air conditioner, … feel like in your home.
Drivers and staffs are trained professionally; Towards a courteous, caring and attentive service style, ensuring the comfort and safety of the absolute customer.
This brand focuses mainly on customers who travel Ha Noi – SaPa as well as the quality of service is guaranteed as much as possible. Should the car focus on the criteria "small size but high quality", which has only a single trip at 21h55 in Hanoi.
Phuc An also supports delivery at the head office. Details about shipping costs and shipping methods, please contact us at the front of the office, shipping costs will depend on type, size and volume.
Phuc An Bus ticket from Hanoi to Sapa – Lao Cai: Price and contact information
Ticket price and departure time:
250,000 VND / ticket ~ 10.7 USD / ticket.
In addition, you can book tickets online and easily select your seat at VeXeRe.com for the cheapest price.  After online booking, the only thing you need to do is showing the ticket code to the staff.
Duration: 4 to 5 hours depending on your destination. However, the time may be different from the schedule due to traffic condition.
Passengers can contact directly or dial 1900 7070 for further information and support.
Pick-up time varies depending on location, pick-up, and actual traffic conditions.
Departure location:
Phuc An Bus has no headquarter in Hanoi, so they pick up guests at Foreign Language University, Cau Giay District, Hanoi. Customers can contact the office directly during work or call 1900 7075
Transition:
There are some available pick-up locations on the road, keeping your phone always in a state of being able to contact. Should avoid unexpected situations, you should prepare before the appointment.
Contact information:
Headquarter: To 23, Hoang Minh Giam, Ward Dong Phong, Lai Châu, Lai Châu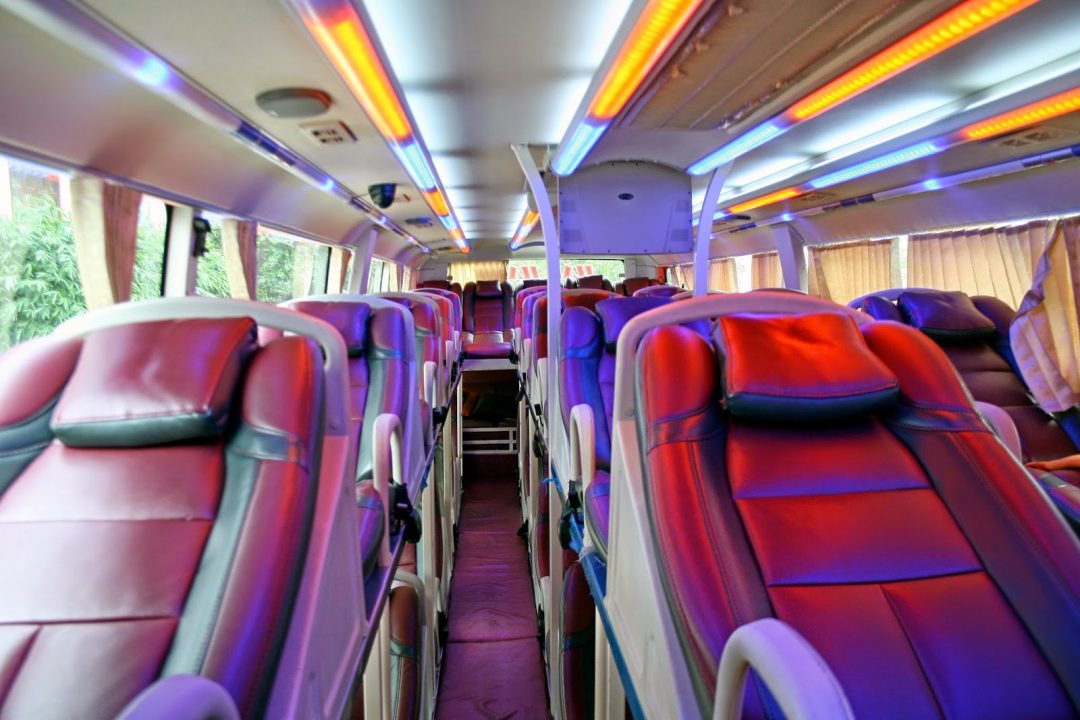 Review Sapa Express bus ticket from Hanoi to Sapa – Lao Cai
Advantages: 
Phuc An Bus is well evaluated based on the customer experience, always committed to depart on time. Service staffs are enthusiastic, thoughtful, professional consultants to answer the questions of customers.
The number of guests is not too large, so we guarantee the waiting time is not too long. So, it is the top choice of passengers who are uncomfortable with long-distance car.
We always give priority to customers such as elderly, young children, pregnant women, sick people.
Car prices do not increase during peak time, always ensure the price stability to serve customers.
On overnight trips, drivers are still running at a moderate pace, and customers can comfortably sleep or take a rest.
Disadvantages: 
– The buses are arranged depending on the turnaround, so you do not know the information of number plate and the driver in advance. If you have a need to know, contact the hotline right away.
– Pick-up time varies depending on location, and actual traffic conditions.
Available seats of Phuc An bus will depend on the booking time. On weekends or holidays, the number of passengers traveling will be higher, in order to get a good position, you need to plan early and contact the booking place first. You can book online Phuc An bus from Hanoi to Sapa with the lowest price at VeXeRe.com website.
Or you should contact 1900 7070 in advanced of the departure date for the best experience.
Some reviews from passengers
M.Dung: "Previously I had a trip to Sapa, originating from Nam Dinh, when the car Phuc An turned up at the bus station, it was quite ok and at a reasonable price. In the process of driving, it was quite fast and smooth, attitude of the staffs was quite enthusiastic. This is a very good garage for your reference!"
Quynh: "The quality of the car is good enough, they have created a good sympathy for my trip when I have children. The staff has given my priority in the middle of the car so that I can take care of my kids."
Linlin: "Conveniently, they picked me up at my school – Foreign Language University, I didn't have to go to My Dinh bus station. The Car is also good and cheap, punctual. Nothing to complain."
For more information about other bus tickets from Hanoi to Sapa – Lao Cai with the lowest price, visit VeXeRe.com
Bus ticket from Hanoi to Sapa – Lao Cai
Bus ticket from Sapa – Lao Cai to Hanoi