Blog VeXeRe - Kênh du lịch và xe khách Việt Nam
Sa Pa, with year-round cool climate, is an attractive holiday destination for those who love mountains and forests and want to experience the wildlife of the Northwest. Especially, travelers should not miss this place.
There are some ways to go to Sapa from Quang Ninh. You can travel on this route by train or bus. There are also some very comfortable direct buses from Quang Ninh to Sapa – Lao Cai.
Vexere will give you detailed information of Phuc Xuyen Bus – the first bus company opening a bus route located in Quang Ninh – Ha Long – Sapa with the desire to connect the Northeast and Northwest, making the journey extremely convenient for passengers to travel from Sapa to Halong without having to go through other transfer points.
Phuc Xuyen Vehicle Co., Ltd., headquartered in Uong Bi, Quang Ninh, was established in 2004. With a focus on "Professional Freight Forwarders, Continuously Improving and Improving Quality Service – Comfort – Luxury ", Phuc Xuyen car has become the first transport brand in Quang Ninh. Phuc Xuyen bus is constantly trying to develop and enhance the prestige and quality of service to customers.
After nearly 15 years of establishment and development, Phuc Xuyen car has served millions of passengers, with more than 200 cars, covering Quang Ninh province's bus network and bus routes linking 10 provinces in Vietnam.
Phuc Xuyen car to Quang Ninh – Ha Long – Sapa is the bed luxury car of the Hyundai Express and Samco brand. It consists of 42 beds, also includes DVD, Wifi, blankets, cold towels and free drinks.
Politeness, safety, thoughtfulness are the impression of the customer won Phuc Xuyen Bus. With the modern 19-seat limousine and full facilities in the car that help Phuc Xuyen bring you the most comfortable, fast and convenient experience. In addition, Phuc Xuyen Company Limited also has Hanoi – Bac Ninh, Ha Noi – Hai Duong and Bac Ninh – SaPa routes to serve passengers' needs.
Service staffs are always enthusiastic to support customers in all situations. Drivers are carefully selected. They always put the safety and comfort of passengers to the top.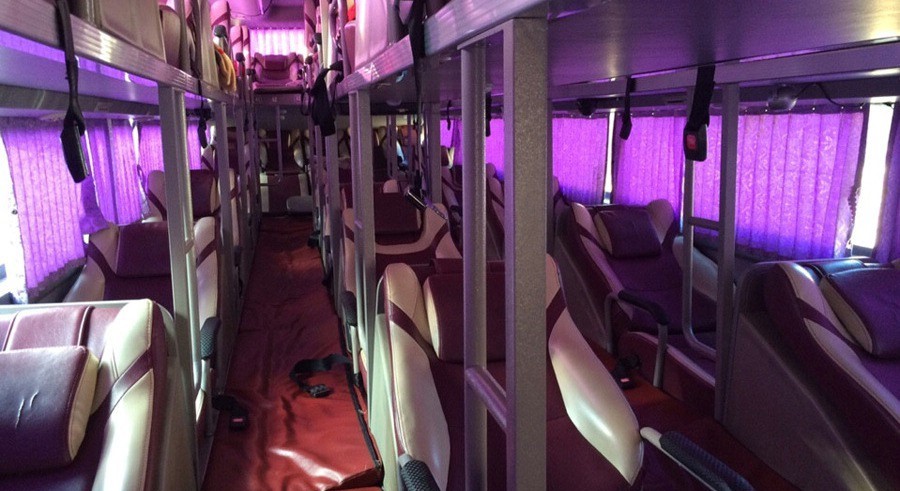 Detailed information of Phuc Xuyen Bus to Sapa
Price: 450,000 VND ~ 19.3 USD/person/way based on your type of car.
Contact information:
Headquarter: Group 7, Zone 1, Yen Thanh, Uong Bi, Quang Ninh Province
 Departure time and location:
+ Quang Ninh: Mong Cai, Cam Hai Mong Duong bus station, Cam Pha bus station, Bai Chay bus station.
+ Hanoi: My Dinh bus station; Noi Bai International Airport
+ Lao Cai: Lao Cai Bus Station
+ Sapa: Sapa Bus Station
Duration:
4 to 5 hours depending on your destination. However, the time may be different from the schedule due to traffic condition.
The availability of Phuc Xuyen bus tickets will depend on the time of your booking. In order to avoid a spike in passenger traffic, or to get a position that is right for you, you need to plan early and contact your booking agent. You can book tickets Phuc Xuyen Bus Quang Ninh to Sapa and bus ticket Phuc Xuyen Bus Sapa to Quang Ninh easy, convenient, prestigious website VeXeRe.com.
After booking via VeXeRe.com, you can use the ticket code to board the car. Need to be in front of the car for 30 – 45 minutes to process. You send a message containing the ticket code to the staff, they will assist in issuing tickets and guide you to the appropriate car.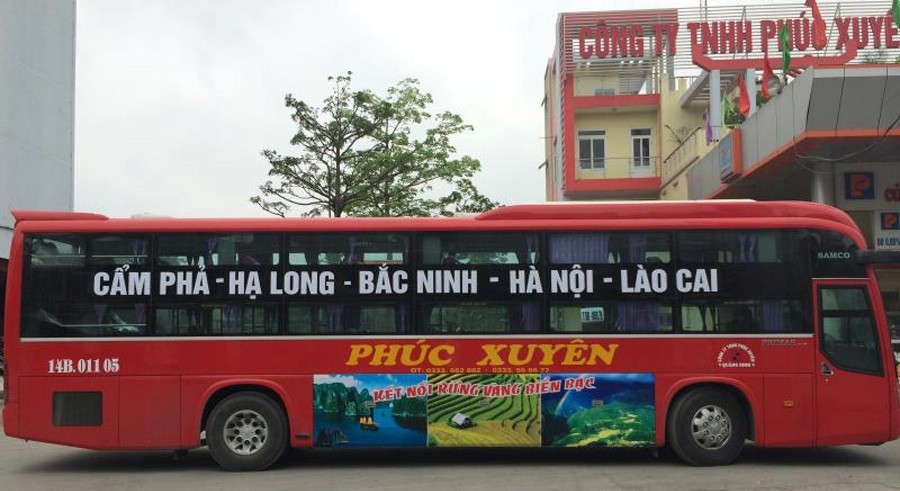 3. Phuc Xuyen Bus Review
PROS :
Phuc Xuyen Bus buses use the latest high quality vehicles, equipped with full facilities. Besides, the company has a team of professional drivers, many years of experience. With traditional thickness and dedication to customers.
All staffs and drivers with many years of experience on each road. Especially, the drivers are very careful. Safety and quality are put on the top.
CONS :
During the peak travel season to Sapa, to avoid the unavailability of the seats, especially VIP seats, we recommend you to book ticket in advance, maybe a few days before your journey.
30% Surcharge on Tet Holiday
Some reviews from passengers
Vu: "A reliable transportation brand in Quang Ninh. The car is on time, professional service and dedicated.
Huan: "Me and my family often support Phuc Xuyen car for reasonable price, professional style and excellent quality "
Kimmes: "Hi Phuc Xuyen. I've been used your bus all five times. Four times before, to be honest, I'm not really happy about your staffs and drivers. The fifth time when I went on yesterday, I was quite satisfied. What is worth mentioning here is that I was impressed with the staffs, the way they talked to guests is very calm, the style of service is quite ok. If your drivers do the same, then I think you have succeeded."
For more information about other bus tickets from Hanoi to Sapa – Lao Cai with the lowest price, visit VeXeRe.com