Blog VeXeRe - Kênh du lịch và xe khách Việt Nam
Sapa has long been known as one of the most attractive holiday destinations in Vietnam tourism. It is currently one of the great number of domestic and international tourists who are seeking to explore, admire the amazing beauty of the nature. Sapa is a peaceful land but hides many wonders the Creator favorably bestowed. This land is also a precious gift that Mother Nature dedicates to Vietnam.
There are some kind of transportations that you could take to go from Hanoi to Sapa, and from Sapa back to Hanoi. Vexere will give you detailed information of Queen Cafe Bus – one of the most popular bus companies that you can trust and book the ticket.
Queen Cafe Bus is a bus company of the Queen Tourist Service Company, operating under the form of Openbus – the form of travel bus for tourists. Queen Cafe has just established and operated in recent years but has created a prestigious car brand, high quality, many tourists choose to book tickets to Hanoi. – Sapa or Hanoi – Phong Nha – Hue – Da Nang – Hoi An.
With the desire to bring customers the best quality car service at the lowest cost, Queen Cafe constantly strives to perfect the quality and style of customer service. Now, all the Queen Cafe trips to Sapa, Hue, Hoi An or Da Nang depart from Hanoi are all welcome to pick up guests in the Old Quarter – Hanoi and the car will take visitors to the place. Sapa town center as well as the center of the city of Hue, Da Nang, Hoi An for easy and convenient travelers begin their travel itinerary. They always desire to create fun on every journey.
Queen Cafe Bus is one of the cheapest bus to go to Sapa. It has a departure location in the heart of Hanoi so it is very convenient for travelers especially booking accommodation in the Old Quarter area of Hanoi. In addition, the car usually runs straight to Sapa and less stops to welcome guests along the road
The car of Queen Café Bus is Thaco MobiHome car which has 40 full leather beds, smooth. Ticket prices include drinking water, wifi and free welcome pick up in Hanoi Old Quarter area. The car is also equipped with clean toilets, European standards.
This is one of the buses which go to Sapa directly from My Dinh – Hanoi to the central of Sapa and not pay guests in Lao Cai (35km from Sapa)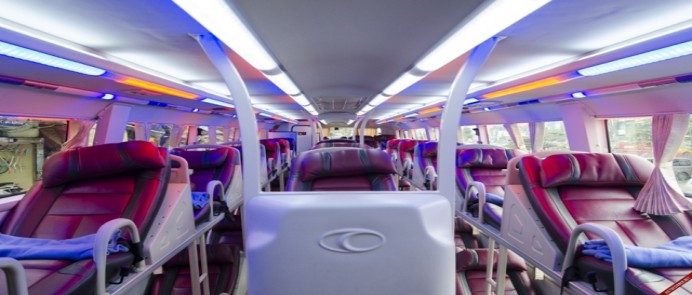 Queen Cafe Bus bus ticket from Hanoi to Sapa – Lao Cai: Price and contact information
Ticket price: 150.000 VND ~ 6.5 $ /person/way – 7h30 ,22h30 daily.
Departure location and transition:
Buses and guides will pick you up at the Hanoi Old Quarter office or hotel. The Car depart for Sapa in the direction of Noi Bai – Lao Cai highway. On the way will stop about 30 minutes in Yen Bai and then continue to Sapa.
When booking tickets, you should know in advance, available addresses and ask the transit advisors.
You should keep the phone with you for the driver to contact, the pick-up time is just the expected time, there will definitely be a difference. Should avoid unexpected situations, you should prepare before the appointment.
Duration: 4 to 5 hours depending on your destination. However, the time may be different from the schedule due to traffic condition.
Contact information:
Address of Queen Café Bus Office:
208 Tran Quang Khai Street, Hoan Kiem District, Hanoi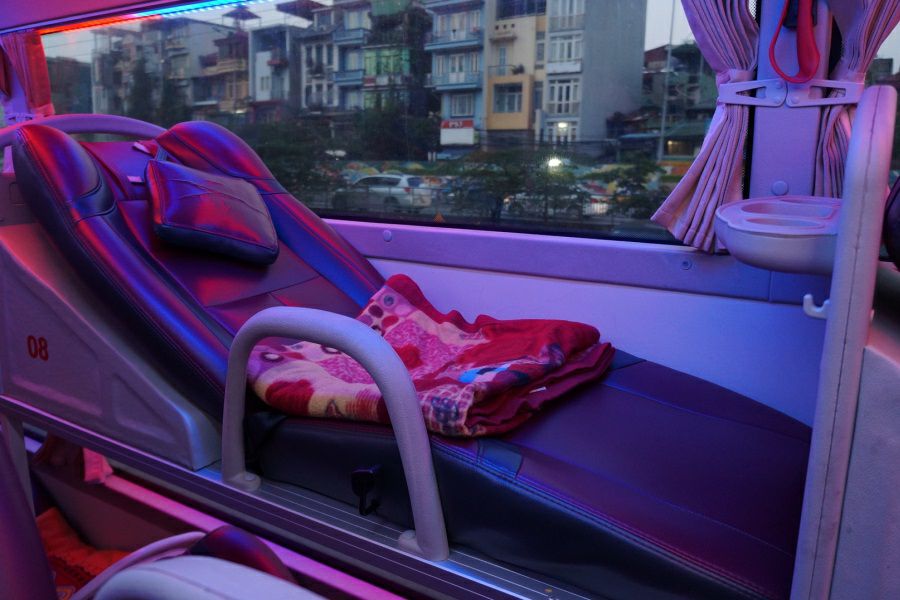 Why should you choose Green Bus for you trip to Sapa?
Queen Cafe bus is well evaluated based on the customer experience, always committed to depart on time. Service staffs are enthusiastic, thoughtful, professional consultants to answer the questions of customers.
On overnight trips, drivers are still running at a moderate pace, and customers can comfortably sleep or take a rest.
Notice: The buses are arranged depending on the turnaround, so you do not know the information of number plate and the driver in advance. If you have a need to know, contact the hotline right away.
The availability of Queen Cafe Bus bus tickets will depend on the time of your booking. In order to avoid a spike in passenger traffic, or to get a position that is right for you, you need to plan early and contact your booking agent. You can book tickets Queen Cafe Bus Hanoi to Sapa and bus ticket Queen Cafe Bus Sapa to Hanoi easy, convenient, prestigious website VeXeRe.com.
After booking via VeXeRe.com, you can use the ticket code to board the car. Need to be in front of the car for 30 – 45 minutes to process. You send a message containing the ticket code to the staff, they will assist in issuing tickets and guide you to the appropriate car.
Or you should contact 1900 7070 in advanced of the departure date for the best experience.
Some reviews from passengers
Lucy : "the seats on the bus were very comfortable and we managed to get a few hours to sleep. The toilet on the bus was clean and nicer than any of those at the stops we made. The driving was fast but not overly bumpy and didn't feel dangerous as we had expected."
Vantoannguyen: "I travel from Hanoi to Sapa with the luxury car – Queen Café bed vip bus. The ride has few people so I feel very comfortable because it is not noisy and very clean. The car has cold water for passengers. The car is fast and smooth so it arrived Sapa very early (about 2.30 am). However, passengers can sleep in the car until 7 am if you do not want to go out so early. And the most convenient thing is to have the toilet at the end of the car."
Khai: "New car, comfortable bed, clean pillow, friendly staffs, affordable price, will support next time."
For more information about other bus tickets from Hanoi to Sapa – Lao Cai with the lowest price, visit VeXeRe.com