Blog VeXeRe - Kênh du lịch và xe khách Việt Nam
You want to go to SaPa but you still cannot find yourself a reputable, professional car that affordable price? Fortunately, you have already found one, please book your ticket at Vexere.vn to get the best price of the Sapa Dragon Express Bus !
A high-quality bed carrier runs a fixed Hanoi-Sapa-Hanoi route departing daily, the Sapa Dragon bus is only into operation in late 2017. This is one of the best quality and latest car with many advantages compared to other car manufacturers
Throughout many years, Sapa Dragon Express Bus has been striving to improve its service quality for customers with the highest quality as possible.
The name Dragon Express is a car that is so familiar to the passengers go Sapa:
The garage system consists of high quality and new vehicles, giving the most comfortable feeling for the users.
With traditional thickness of service, Green Express confidently assure professional services to many domestic and foreign customers. Along with that, the quality of service will make your trip more complete with full on-site facilities and attentive service staff is extremely polite and professional.
The car has 30 soft leather beds, a double bed structure and other amenities such as televisions, bed trays, mini fridge, live sound system, modern bathroom system clean…
The car goes straight without stopping and picking passengers along the road
Passenger will not get car sick due to too many stops.
Premium quality – But very cheap fares
Two return trips per day – 7h00 and 22h00 daily; Each one has a regular bed (40 seats) and a VIP (29 seats).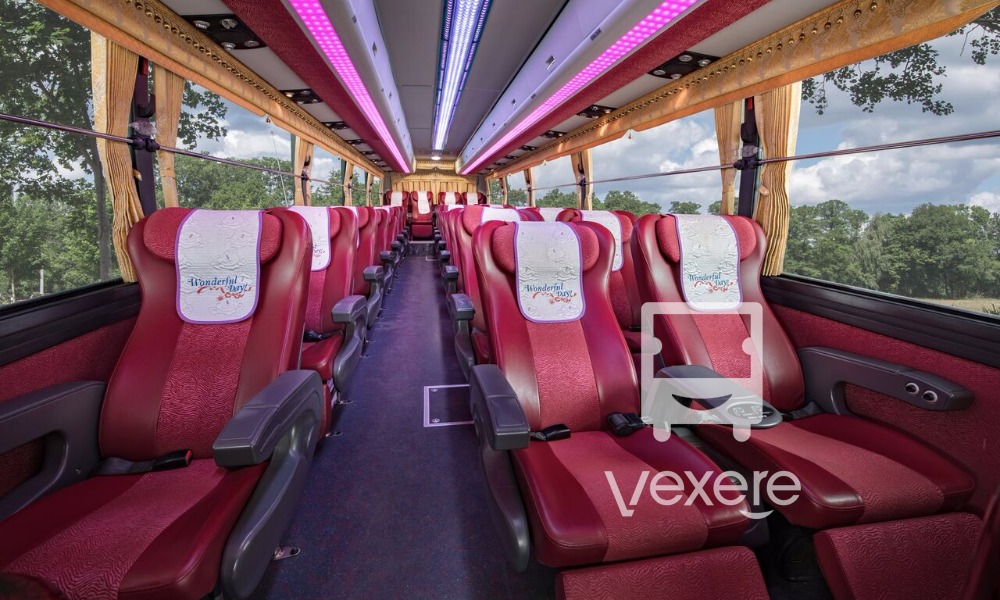 Detailed information of Sapa Dragon Express Bus to Sapa
Price:
250,000 – 350,000 VND ~ 10.9 – 15.3 USD/person/way based on your type of car.
The Schedule of the route Ha Noi – Sapa:
06h30: pick up at your hotel in the Old Quarter by minivan
07h00: Start departure to Sapa.
08h30: Have a rest-stop at Km57 for 30 minutes, here if you need extra refreshment, and that allows you to go to toilet also.
11h30: For the safety before going up mountain pass to Sapa, stop within 15 minutes at Km 237 for the second rest-stop.
12h30: Arrive in Sapa Town – stop at our office, No 02 Fanxipan Street.
Contact information:
Headquarter: 34 Hang Non Street, Hoan Kiem District, Hanoi
Departure time and location:
The staff picks up passengers from any hotels within the Old Quarter in the morning and arrives at Sapa Town Center – Sapa Church at noon.
Duration:
4 to 5 hours depending on your destination. However, the time may be different from the schedule due to traffic condition.
The availability of Dragon Express Bus bus tickets will depend on the time of your booking. In order to avoid a spike in passenger traffic, or to get a position that is right for you, you need to plan early and contact your booking agent. You can book tickets Dragon Express Bus Hanoi to Sapa and bus ticket Dragon Express Bus Sapa to Hanoi easy, convenient, prestigious website VeXeRe.com.
After booking via VeXeRe.com, you can use the ticket code to board the car. Need to be in front of the car for 30 – 45 minutes to process. You send a message containing the ticket code to the staff, they will assist in issuing tickets and guide you to the appropriate car.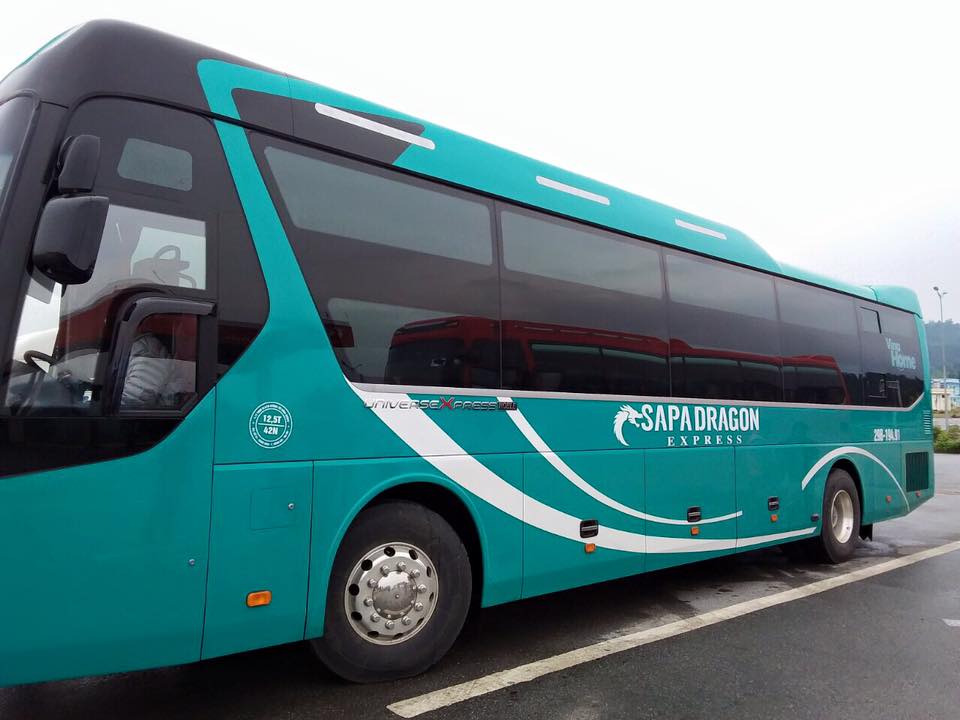 Sapa Dragon Express Bus Review
PROS :
Sapa Dragon Express Bus buses use the latest high quality vehicles, equipped with full facilities. The company has a team of professional drivers, many years of experience. With traditional thickness and dedication to customers.
Free Pick up and drop off at your hotel (in Hanoi Old Quarter)
All staffs and drivers with many years of experience on each road. They can speak English well and friendly. Especially, the drivers are very careful. Safety and quality are put on the top.
CONS:
During the peak travel season to Sapa, to avoid the unavailability of the seats, especially VIP seats, we recommend you to book ticket in advance, maybe a few days before your journey.
30% Surcharge on Tet Holiday
Some reviews from passengers
Aize: "First time go to Sapa and try Sapa Dragon Express. I'm very satisfied with this bus. Good job."
Ollien: "Having Sapa – Ha Noi trip, I only book ticket by online and Sapa Dragon Express's staff will take it to me, it easy and convenient! Good quality, kind staff and cleaning. It's that all."
N.Tuấn: "Thank you for giving me a fun and safe trip. Serving enthusiastically and I like the quality of the car, I felt very happy and peaceful. "
For more information about other bus tickets from Hanoi to Sapa – Lao Cai with the lowest price, visit VeXeRe.com