Blog VeXeRe - Kênh du lịch và xe khách Việt Nam
Since being established, the Vietbus has always wanted to provide customers with the most comfortable experience in the North of Viet Nam. Vietbus cars are equipped with modern facilities, with new beds and beautiful carriages, the roads are concentrated in the northwest. Currently Vietbus car has a high quality Mercedes car with a team of professional drivers and enthusiastic service staffs. The car will meet all your requirements. With the motto: Customer is the decisive factor as well as the development of the company. Therefore, the priority of Vietbus is to provide customers with a perfect service quality, enthusiastic service style, professional meet the expectations of customers.
VietBus bus from Ha Noi to Sapa
Vietbus now has sleeper buses to Sapa, which contains 46 reclining beds (suitable for people who is taller than 180 centimeters) made sure to help passengers feel the most comfortable and pleased. The company has invested in new cars, especially Hyundai vehicles, which have a lot of imported parts from Korea such as engines, chassis and cabin than other companies with high localization rates. The Bus has full of modern equipment. Passengers are completely free to use fridge on the car as well as drinking water, cold towels, charging socket. Toilet discreet, clean, and well designed in car. In addition, you can also take a rest, watch comedy, music programs … through LCD system linked to the car sound system.
Using the services of VietBus , customers will be extremely satisfied with the quality, price and style of dedicated service staffs.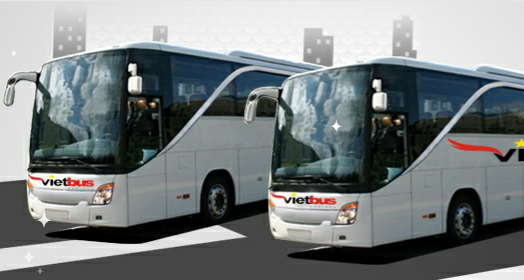 VietBus Bus ticket from Hanoi to Sapa – Lao Cai: Price and contact information
Ticket price: 230.000 VND / ticket ~ 9.8 USD / ticket.
After booking via VeXeRe.com, you can use the ticket code to board the car. Need to be in front of the car for 30 – 45 minutes to process. You send a message containing the ticket code to the staff, they will assist in issuing tickets and guide you to the appropriate car.
Departure time: 06h00, 09h00, 12h30, 20h00, 21h00 daily
Duration: 4 to 5 hours depending on your destination. However, the time may be different from the schedule due to traffic condition.
Passengers can contact directly or dial 1900 7070 for further information and support. In addition, you can book tickets online and easily select your seat at VeXeRe.com for the cheapest price.
Departure location:
284 Giai Phong Street, Thanh Xuan District, Hanoi
This location is far from the center, so it is more difficult for tourists renting rooms in the Old Quarter or the central in Hanoi.
Transition:
Due to the special characteristics of the car, it can't be parked in front of the office, small cars, such as 16 seats or 24 seats to receive guests at 284 Giai Phong then transfer to the parking lot. Guests have to descend from the small car, then boarded the bed, from which to begin the journey to Sapa.
Transit causes inconvenience for passengers when traveling, especially for guests with luggage, children and the elderly.
Contact information:
284 Giai Phong Street, Thanh Xuan District, Hanoi
3. Review VietBus bus ticket from Hanoi to Sapa – Lao Cai
Advantages: 
Vietbus is highly valued by its customers, committed to bring the good quality, customer-focused service.
The seats are designed to slip with adjustable buttons, passengers can choose the most comfortable and comfortable position easily.
Service staff always enthusiastic to assist customers in all situations, drivers are carefully selected, always put the safety and comfort of the passenger above all.
VietBus has a fixed departure time and free picks up at some points so passengers can choose the appropriate trip. Besides, the schedule of Golden Horse Limousine Vip is quite reasonable. It arrives in Sapa at noon, guests can come and check-in on time, have lunch, relax and visit Sapa. But in the early morning, guests must get up early to check out hotel.
Disadvantages: 
– Pick-up time varies depending on location, and actual traffic conditions.
– Tickets are usually sold out on weekends or peak time. You should contact 1900 7070 or book online in advanced of the departure date for the best experience.
Some reviews from passengers
Lam: "The staff was very enthusiastic, punctual, friendly driver, good quality. Customer service policy is very good, before the appointment and after the appointment, the staff call carefully. Very good, I will back"
Justin21: "I took the car twice, the new car, the attitude from the operator, the driver and the drinks on the car are very well. The car is airy and not squashed. The price is affordable, reasonable. It's a new car so I'm very pleased."
Thanh Trần: "The service is very good, dedicated guide. Pick up guests at the right place. Free drink water, cold towels for passengers. Specially on time."
For more information about other bus tickets from Hanoi to Sapa – Lao Cai with the lowest price, visit VeXeRe.com