Blog VeXeRe - Kênh du lịch và xe khách Việt Nam
Long distance travelling is the suffering of many people, meanwhile, the air plane tickets are expensive. Limousine buses can fix those discomforts while travelling, thanks to the modern equipments, comfort and privacy. Knowing that advantage, Vy Van bus widens its company by developing the limousine on all routes, including Sai Gon – Dalat. VeXeRe will give you detailed information about Vy Van Limousine bus ticket from Ho Chi Minh to Dalat.
The most prominent feature of this limousine is the interior of the bus. Vy Van Limousine is a 9 – seat D – car Limousine. It has 16 seats at first, but now people resize it to only 9 seats in order to create a neat and spacious bus. 
Each seat is made of luxurious leather with wide form. Vy Van Limousine also has a modern massage system that can slip behind and be customized. Vy Van Limousine always ensures to bring comfort to passengers.
Moreover, Vy Van Limousine is equipped with many gadgets for work or entertainment such as a 4G network, USB ports, as well as the electrical outlet. In addition, Vy Van Limousine has a refrigerator to meet all the needs of customers. The TV on the bus is large enough so that people sitting in the back seat can see clearly. Passengers are also provided with free water, wet tissue and snacks.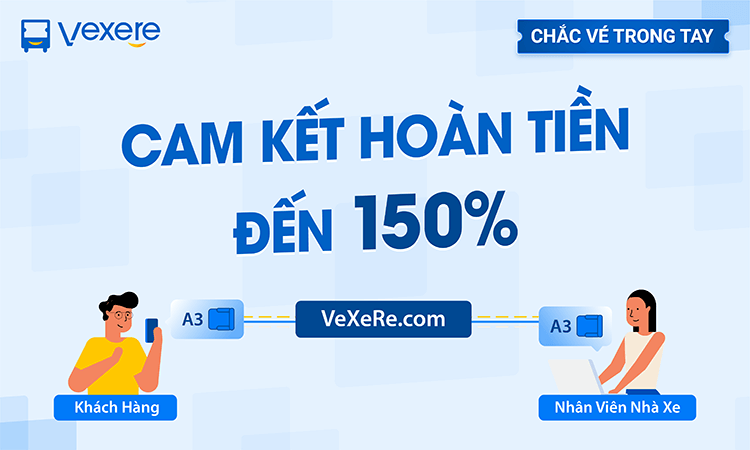 Vy Van Limousine's inferior
Vy Van Limousine's staffs are always enthusiastic to support customers in all situations. The drivers are selected and trained thoroughly so that they always run safely at moderate speed in such a tortuous road like Dalat. Vy Van Limousine always puts the safety and comfort of passengers on its priority.
Besides Limousine bus, Vy Van Travel also has high-class cars from 4 seats to 45 seats for tourist tours across the country.
2. Vy Van Limousine bus ticket from Ho Chi Minh to Dalat: Price and contact information
Ticket price: 250000 VND / ticket ~ 10.7 USD / ticket.
Departure time: 9h, 12h and 23h daily
Travel time: 7h – 8h based on your destination. However, the time may differ from the schedule because of the traffic condition.
Departure place:
93 Ham Nghi, District 1, Ho Chi Minh.
Hang Xanh crossroad, Binh Thanh District, Ho Chi Minh
Destination place: No. E2, KQH Hoang Dieu, Ward 5, Dalat, Lam Dong.
Transition:
Vy Van Limousine does not have fixed picking up point on the route, but it has shuttle buses to transit passengers. However, the shuttle buses only pick you up in the centre of Ho Chi Minh and Dalat. For your best experience when using Vy Van Limousine, you should contact the operator early if you want to have a transit bus.
The fee is included in the ticket price, you don't have to pay more. When the driver begins to transfer, he usually contacts you first, so you need to keep the phone with you.
Contact information:
Dalat Office Address: No. E2, KQH Hoang Dieu, Ward 5, Da Lat, Lam Dong State.
Vy Van doesn't have an office in Ho Chi Minh city. You can call 1900 7070 for more information or book Vy Van Limousine bus ticket from Ho Chi Minh to Dalat online at VeXeRe.com.

3. Review Vy Van Limousine bus ticket from Ho Chi Minh to Dalat
Advantage: Vy Van Limousine has a fixed departure time frame every day so it would be very punctual. Facilities on the buses are always guaranteed. Their dedicated drivers are always bringing the journey safer for passengers. The staffs always try their best to support customers during the trip.
Disadvantage: Vy Van Limousine only has 3 buses from Ho Chi Minh to Dalat, so tickets are usually fully booked on weekends or peak time. You should contact 1900 7070 or book online in advance for the best experience.
Some review from passengers
Đ. Le: "This company is new. My nephew booked the ticket for me. The quality of the car to the service of the employees is excellent. I really hope Sai Gon – Da Lat route has more buses like this. "
Mr Chau: "My company always books Vy Van for our trip to Dalat. Now Vy Van has the luxury Limousine to Dalat. From now on, our company can travel to Dalat by Limo. Sounds great. "
Mr Kiet: "It's the first time I came back home with a massage chair, I felt quite comfortable. You can lay back and rest during the trip without feeling tired. Good bus. Give it 5 stars! "
Thai: "The bus has a quite special massage chair. The driver runs smoothly and carefully. "
Viet: "The bus was quite punctual. The only problem was it ran pretty fast. The back seats were very shocking. Overall, my trip was very satisfying. "
For more information about other bus tickets from Ho Chi Minh to Dalat with the lowest price, visit VeXeRe.com