Blog VeXeRe - Kênh du lịch và xe khách Việt Nam
At 320km to the northeast of Hanoi is Sapa. This is where you can truly experience Vietnam. Travelers can choose between a shuttle, minibus, sleeper bus, private car, a combination of train and cab, or renting a motorbike to get to Sapa from Hanoi. In this article, Vexere will give you detailed information of Sapa Sinh Cafe Express bus – one of the most popular bus companies that you can count on and book the ticket.
Sapa Sinh Cafe Express committed to provide the highest quality service to customers, the desire to bring customers the most comfortable moments through the trip.
This bus company has just established and operated in recent years but has created a prestigious car brand, high quality, many tourists choose to book tickets to Hanoi. – Sapa.
High quality bus departures from Hanoi daily in the morning and evening, suitable for those who want to save time or have limited time to visit SaPa.
It has a departure location in the heart of Hanoi so it is very convenient for travelers especially booking accommodation in the Old Quarter area of Hanoi.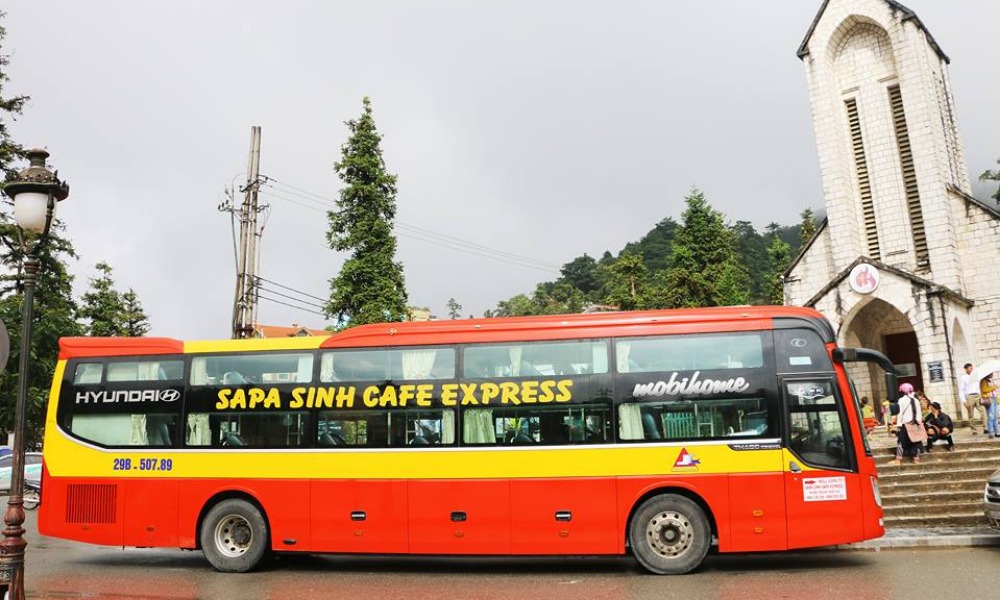 The fee included:
– Air conditioning.
– WIFI.
– Cold towels, mineral water.
– Blankets, sleeping pillows for travel.
– Toilet.
The Schedule Hanoi – Sapa:
DAY:
06h30: Pick up at the hotel located in the old town area or 54 Tran Nhat Duat
09h00: Car will stop about 30 minutes at Km57
12h00: Take a 15-minute break at Km237
13h00: Bus to Sapa town and finish your trip at the office at Sapa.
NIGHT:
21h10 – 21h45: Pick up at the hotel located in the old town area or 54 Tran Nhat Duat
22h00: Depart for Sapa
23h30: The car will stop about 30 minutes at Km57
22h30: Continue stopping at Km237
03h30: Bus to Sapa town and finish your trip at the office at Sapa.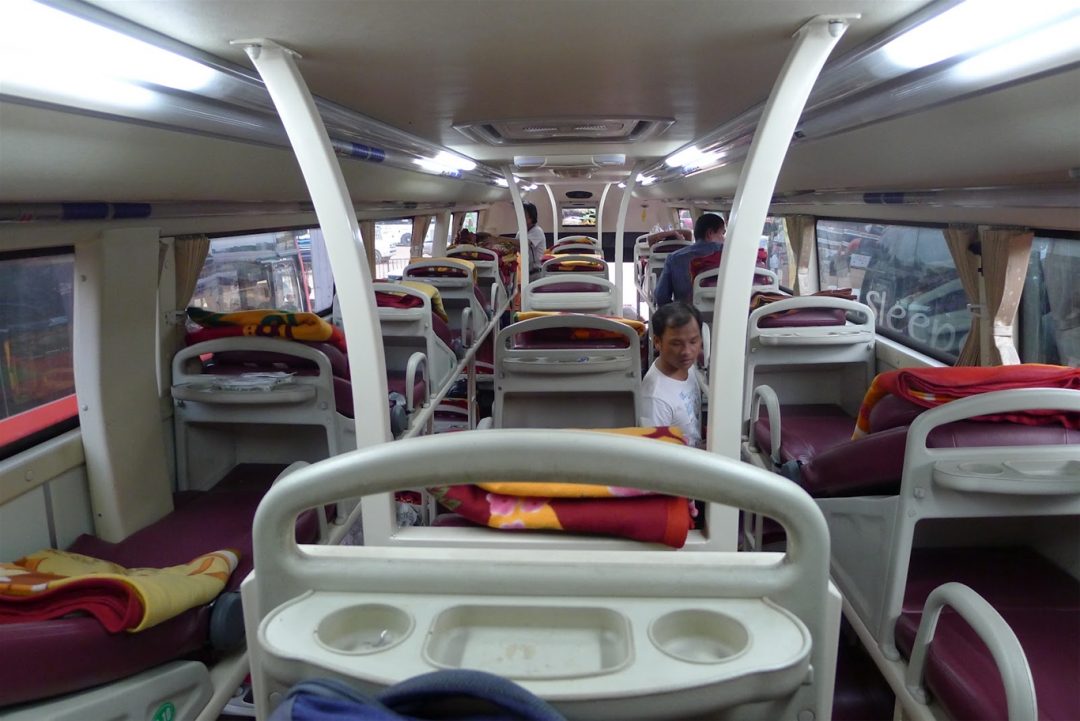 Sinh Cafe Express bus bus ticket from Hanoi to Sapa – Lao Cai: Price and contact information
Ticket price: 250,000 VND ~ 10.74 $ /person/way – 7h00 ,22h00 daily.
Departure location and transition:
All hotels in Hanoi Old Quarter – Hoa Binh Park – Pham Van Dong Street – Noi Bai Airport – Kim Anh Crossing – Noi Bai Intersection – Lao Cai Expressway.
* Drop off at the center of Sapa town. Address: 130 Thach Son Street – Sapa Town.
When booking tickets, you should know in advance, available addresses and ask the transit advisors.
You should keep the phone with you for the driver to contact, the pick-up time is just the expected time, there will definitely be a difference. Should avoid unexpected situations, you should prepare before the appointment.
Duration: The total time is about 5 hours, you will experience the beautiful streets through the midland mountainous in the North. Enjoy the relaxed feeling no longer tired by the experienced driver and service team.
However, the time may be different from the schedule due to traffic condition.
Contact information:
54 Tran Nhat Duat, Dong Xuan Ward, Hoan Kiem District, Ha Noi.
Why should you choose Sapa Sinh Cafe Express bus for you trip to Sapa?
Service staffs are enthusiastic, thoughtful, professional consultants to answer the questions of customers.
On overnight trips, drivers are still running at a moderate pace, and customers can comfortably sleep or take a rest.
Sapa Sinh Café Express Bus has a fixed departure time frame daily.
Notice: The buses are arranged depending on the turnaround, so you do not know the information of number plate and the driver in advance. If you have a need to know, contact the hotline right away.
The availability of Sapa Sinh Cafe Express bus tickets will depend on the time of your booking. In order to avoid a spike in passenger traffic, or to get a position that is right for you, you need to plan early and contact your booking agent. You can book tickets Sapa Sinh Cafe Express bus Hanoi to Sapa and bus ticket Queen Cafe Bus Sapa to Hanoi easy, convenient, prestigious website VeXeRe.com.
After booking via VeXeRe.com, you can use the ticket code to board the car. Need to be in front of the car for 30 – 45 minutes to process. You send a message containing the ticket code to the staff, they will assist in issuing tickets and guide you to the appropriate car.
Or you should contact 1900 7070 in advanced of the departure date for the best experience.
Some reviews from passengers
Waymaxx : "This bus service travel through the new highway to get directly to Sapa. It takes about 6 hrs. The bus itself was clean and comfortable with aircraft style recliner seats and free, available Wi-Fi. The driver and guide were also good."
Vanthanh: "I booked very quickly and that was a simple way with fast email via vexere.com. It was clear to answer all of my question. I am happy. Blanket is new, smooth. There were friendly staffs, available wifi and toilet on Bus. Driver is carefully and friendly, there is a water free for guest, High recommend for solf sleeper Sapa Sinh Cafe Express Bus."
Hong: "friendly staffs, affordable price, will support next time."
For more information about other bus tickets from Hanoi to Sapa – Lao Cai with the lowest price, visit VeXeRe.com